Renewable and Nonrenewable Resources are two broad categories of resources that play a vital role in our daily lives. In a short period, usually within a person's lifetime, natural resources can replenish themselves. They are not depleted over time and they can be replenished. Renewable energy resources include solar energy, wind energy, hydropower, and geothermal.
Non-renewable resources are the opposite. They are natural resources that are not replenishable by nature and are therefore limited. The use of these resources will reduce the amount of natural resources. Non-renewable resource examples include fossil fuels such as oil and coal.
Natural resources are those that do not originate from humans. Examples include the air, sun, minerals, plants, animals, and mines. Natural resources are divided into two types: renewable and non-renewable. These two resources are both essential for human life. Discover the difference between Renewable Resources and Non-Renewable Resources.
What are Resources?
All the substances in our world that are consumed by life forms, including plants and animals, can be referred to as resources. Resource is a term used to describe the raw materials that are found in our environment. They are materials found in the natural world. These materials are useful to everyone in many ways.
Define Natural Resources
They are resources that are natural and not human-made. Air, water, mineral deposits, forests, and land are all natural resources. The survival of all life forms and humans depends on natural resources. These resources are the main raw materials used in many industries such as farming, mining, and forestry.
To survive on our planet, humans need many things that nature provides. Natural resources are what we call them. Examples include air, water, trees, animals, and minerals. Man-made resources are created when humans combine natural elements to create something new that has a higher value.
Overuse can cause environmental damage and depletion. It is therefore important to ensure that natural resources are used sustainably to guarantee their availability for the future.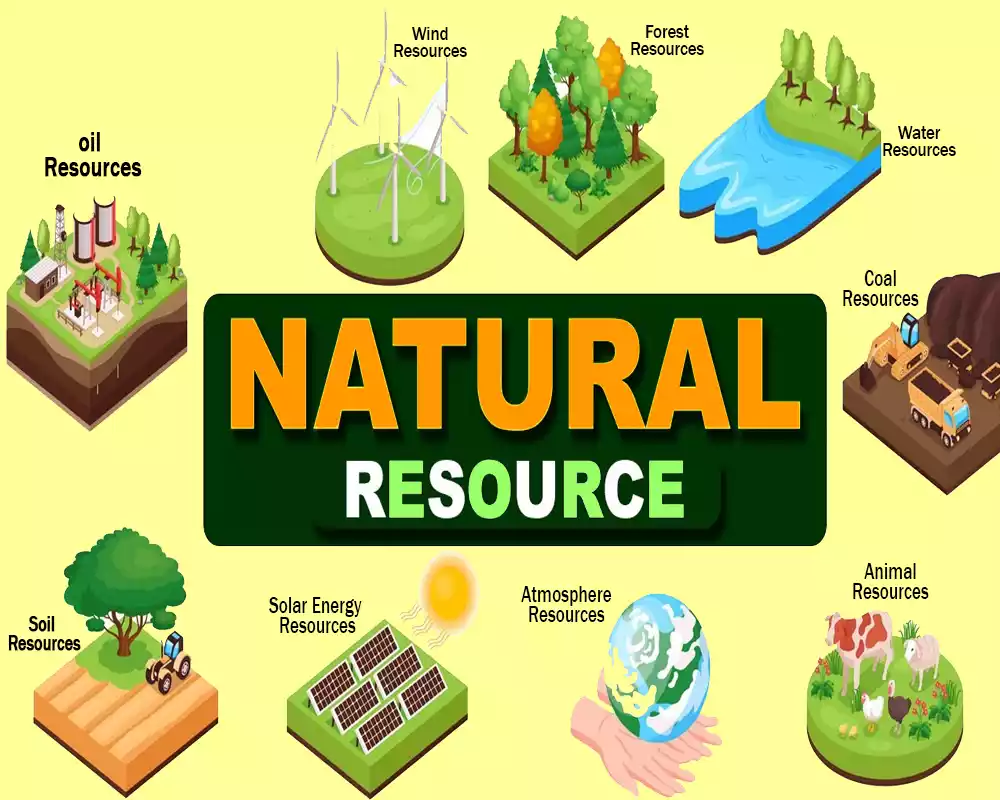 Types of Natural Resources
Humans use natural resources for their economic benefit or to achieve other goals. Natural resources come in many different types, with their characteristics and purposes. This article will cover the various types of natural resources.
Renewable Resources

Non-Renewable Resources

Inexhaustible Resources

Biotic Resources

Abiotic Resource
Living beings need natural resources. Natural resources can be classified in many different ways. There are many ways to classify natural resources. Renewable and non-renewable resources are the two main types of energy.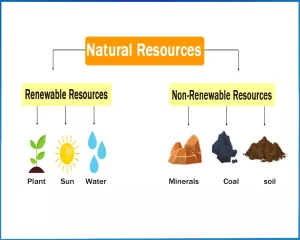 What are Renewable Resources?
These are the natural resources that do not get depleted or exhausted even after their continuous consumption. These get replenished or replaced through natural processes during a finite amount of time.
Solar Energy
Solar energy is one of the most abundant renewable resources available on Earth. It is derived from the sun's radiation and can be harnessed using solar panels. Solar energy is clean, reliable, and can be used to power homes, businesses, and even entire communities.
Sun – The energy obtained from sunlight is solar energy. The sun is the ultimate natural resource for all living beings on Earth. Plants utilize solar energy and make their food through photosynthesis.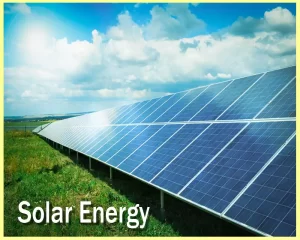 Wind Energy
Wind energy can be harnessed for use as an abundant, clean power source that can power businesses, homes, and entire communities. Wind energy is a renewable, essential energy source. Photosynthesis (the process by which plants use sunlight to convert carbon dioxide and oxygen into food), respiration – inhaling and exhaling carbon dioxide – and wind energy all play vital roles in life.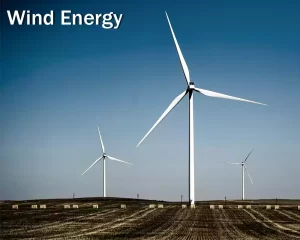 Hydroelectric Energy
Hydroelectric power is generated by the flow of water. It can then be harvested using dams. It is essential for human survival. Water is used by humans for many purposes, such as drinking, washing clothes, cooking, and growing crops. Water flowing into a river, or the water stored within a dam generates hydro energy. The power generated by moving water, such as rivers, is called hydro energy.
Hydro energy can be converted into electricity in a very simple manner. Electric energy is one form of energy that is a result of an electrical charge. Electrical energy is a form of energy that is the result of an electric charge.
Geothermal Energy
Geothermal energy harnessed from Earth's core heat can provide clean and sustainable power solutions to businesses, homes, and entire communities alike. Soil is an invaluable resource, serving as the platform upon which plants thrive and providing life with sustenance – particularly food produced from plant sources.
Biomass Energy
Biomass energy comes from organic materials like plant and animal waste, with various technologies like combustion, anaerobic digestion, and gasification producing heat or electricity for use as an energy source. Biomass provides clean renewable energy which is both a renewable and cost-effective source.
Renewable resources play an integral part in mitigating greenhouse gas emissions and slowing climate change, helping us create a more sustainable future by employing their use.
Biogas – Biogas, also referred to as biofuel, is produced when animal waste and plant materials like dung are broken down by microorganisms in water. Gas stoves often use this source of power in rural areas.
What are Non-Renewable Resources?
Non-renewable natural resources refer to those resources with finite quantities that cannot be replenished quickly due to time restrictions and cannot be recycled back into use; there are different kinds of non-renewable resources such as fossil fuels.
Natural resources refer to those resources which, with human consumption, deplete or exhaust and do not replenish or replace themselves – including mineral ores, fossil fuels, and groundwater supplies.
Let us now investigate the distinctions between renewable and non-renewable resources.
Fossil Energy: Fossil energy is a renewable resource derived from ancient organisms such as plants or animals, such as coal, natural gas and oil derived from ancient organisms that have long since perished – these fossil fuels include coal, natural gas and oil that is used for transportation, electricity generation, and heating buildings – they cannot be replenished so energy prices have increased due to fossil fuel exhaustion as these materials will eventually run dry; examples include coal, petroleum, and natural gas as examples of fossil energy.
Nuclear Energy: Nuclear power is generated by splitting an atom's nucleus, with electricity then produced as a result of this splitting process. Uranium used in nuclear reactors depletes over time while radioactive materials found naturally are utilized as source materials to produce this source. Uranium in nuclear reactors primarily serves to produce fuel rods which when hit by neutrons produce heat that converts into steam for use by turbines to drive turbines, producing electricity.
Coal: Coal can be found in steam engines, and factories, as fuel for electricity generation, and as an ingredient of synthetic gasoline production.
Gas: Compressed natural gas provides an alternative to diesel and petrol; its rapid burning produces large amounts of heat which provides an easy source of hydrogen.
Metals and Minerals: Metallics and minerals are non-renewable resources used in electronics as well as construction applications, from electronics to construction materials. Examples of metallic and mineral sources are copper, gold, iron, and aluminum extracted from Earth's crust mined for use. Petroleum: Also known as mineral oil or crude oil, petroleum is found deep within Earth and used to make petrol, diesel fuels, cooking gases, and kerosene; making the transition between non-renewable resources to renewable ones essential to sustainable growth.
Characteristics of Renewable and Non-renewable Resources
Renewable sources differ from non-renewable resources in several key ways. First and foremost, renewables are renewable and won't deplete over time; secondly, their environmental footprint is less severe; thirdly, these abundant and widely accessible resources exist around the globe.
Nonrenewable resources have specific features that distinguish them from renewable ones. Without careful management, these resources could run dry at some point and contribute to greater levels of pollution and environmental harm than their renewable counterparts.
Difference between Renewable and Non-Renewable Resources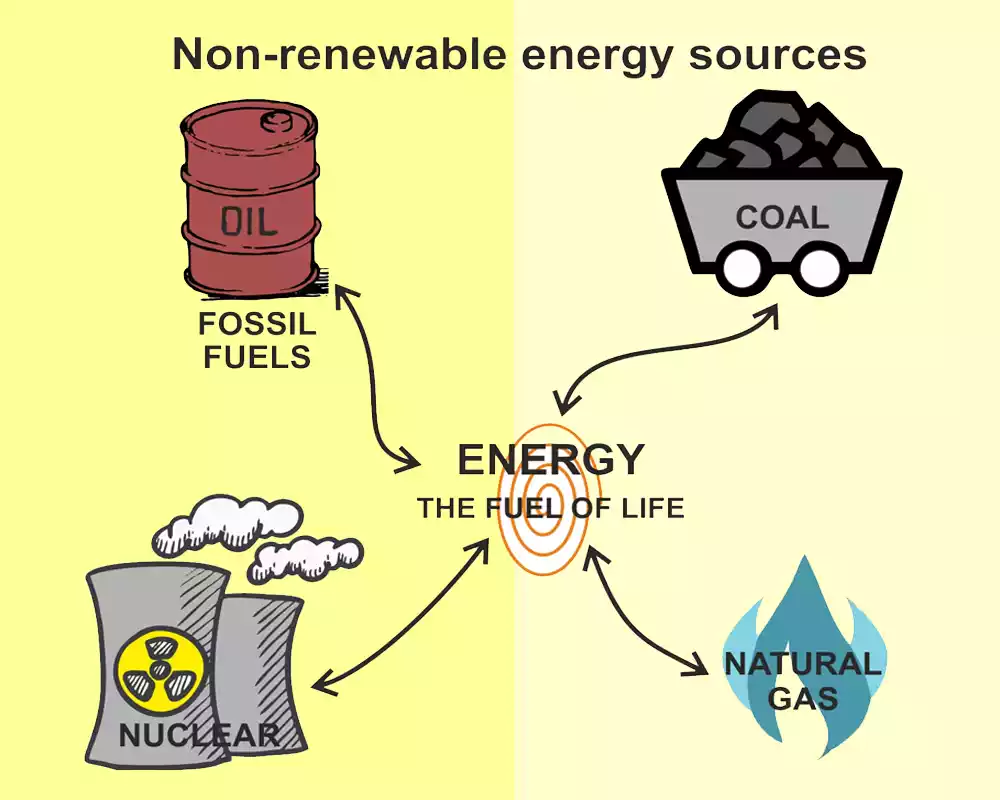 What are the main differences between renewable resources and non-renewable ones?
Renewable Resource:
Sustainability and abundance

Lower environmental impact

When available

Infrastructure requires significant investment

Solar energy, wind power, hydropower, geothermal and biomass energy are all examples.
Non-Renewable Resources:
The finite will run out eventually

Significant environmental impact

Source of energy that is reliable and consistent

Existing technology and infrastructure

Examples of fossil fuels include oil, coal, and natural gas
Comparison chart
| Parameters | Renewable Resources | Non-Renewable Resources |
| --- | --- | --- |
| Depletion or exhaustion | There is no depletion in them with continuous consumption. | These get depleted with continuous consumption. |
| Examples | Sunlight, wind, water, vegetation, etc. | Mineral ores, and fossil fuels such as coal and petroleum. |
| Impact on the Environment | These emit low carbon and thus have a low carbon footprint. | These emit comparatively higher carbon and thus have a higher carbon footprint. |
| Upfront cost | The upfront cost is high. | The upfront cost is low. |
| Infrastructure | To harvest renewable energy, the cost of infrastructure is very high. | To harvest non-renewable resources, the cost of infrastructure is low and cost-effective. |
| Area | It requires a huge area for wind farms, etc. | It requires a smaller area, comparatively. |
What are the advantages and disadvantages of renewable resources?
Now that we have a clear understanding of what each type of resource is,
let's take a look at the advantages and disadvantages of renewable resources:
Disadvantages
Renewables tend to be more expensive, newer, and less established.

 

Many types of clean energy infrastructure, while better for the planet, can cost more than traditional energy generation systems.

 

Wind turbines are initially expensive, but they will pay for themselves in the long run, since energy savings will outweigh their initial costs.

 

Wind turbines can be a valuable investment for those who can pay upfront. However, this is not always possible for lower-income communities.

The ever-growing population of the world and the consequent increase in energy demand is another unfortunate side effect of renewable energy.

 

The electricity demand in the world is currently so high, that renewable energy sources alone would not be able to meet all global needs.

This will indeed

be possible in the future, but for now, it's only possible to meet these needs by using a combination of renewable and non-renewable sources of energy.

Most people are creatures of habit and stick with what they know.

 

Clean energy is new and unfamiliar to many people, which can discourage them from investing.

 

Electric cars are a great example, as we can charge them using renewable electricity.

 

This issue is largely a matter of money, since traditional fuels such as diesel and gasoline cost less, so people prefer them.
Advantages
Scientists are increasingly promoting renewable sources of energy for environmental reasons.

 

They don't release harmful carbon into the air and help offset emissions.

They can improve air quality and respiratory health.

 

The government can save millions in healthcare costs by using more environmentally friendly sources of energy. Fewer people will be hospitalized with respiratory diseases and asthma due to emissions.

Using more renewable energy is not only better for our environment and health, but it also allows us to conserve nonrenewable resources.

 

It can take millions to form fossil fuels like natural gas, coal, oil, and other forms of energy.

Globally, renewable energy is a major driver of job growth.

 

Wind Turbine Technician is the second-fastest-growing job in the U.S., with a 68% growth rate (accounting for 2020 to 2030).

 

Solar Photovoltaic Installers are ranked third with a growth rate of 52%.
What are the advantages and disadvantages of nonrenewable resources?
Disadvantages
Many are becoming aware of the harmful impacts nonrenewable energies have on our environment, particularly oil, coal, and natural gas sources that must be burned to access their energy – with carbon dioxide released into the air contributing to global warming as a result of burning nonrenewable sources like this.
Mining gold can be costly and demand is always high for these valuable metals.
Even in America, mining accidents remain deadly.
Advantages
The cost of non-renewable sources is generally low and they are easily accessible.

We have optimized our infrastructure to make the most of their usage.

 

Every day they are used globally, helping to drive down the prices of fossil fuels like oil, coal, and gas.

The nonrenewable forms of energy are more reliable and stable than the renewable ones that depend on Mother Nature, like wind or solar. They can be saved for later use, as they don't rely on weather conditions.
How are nonrenewable and renewable resources formed?
The fossilized remains from animals and plants are the source of nonrenewable energies. It takes a long time for nonrenewable energies to be formed, and so they are not sustainable. Renewable sources of energy are also found in nature but are available at all times. Theoretically, renewable energy resources can be replenished every day. We can use the energy of the wind, sun, and flowing water to generate electricity every time they blow, shine, or flow.
What are renewable and nonrenewable energy sources?
Renewable energy is an infinite resource that replenishes without our involvement. Renewable energy comes from elements like wind, sun, water, and plant material. Wind, water, and sun will continue to flow, no matter how much we produce.
On the other hand, non-renewable sources of energy are available only in set amounts. This usually refers to fossil energy sources such as coal, natural gas, and oil. These resources are derived from organic material, but it takes hundreds of thousands of years for them to be created. They also require an environment under high pressure to transform into the fuels we use. They are forever gone once they have been burned.
How does human activity affect the planet's renewable and nonrenewable resources?
Human activity is responsible for the depletion of nonrenewable sources. Infrastructure relies heavily on the nonrenewables in today's energy grid. This is why they are running out.
This fact leads us to prioritize the development of renewable energy resources that can replace nonrenewables. As a result, we have seen a rapid increase in renewable energy. Human activity has reduced nonrenewable resource availability, but this allows us to invest in sustainable alternatives for the future.
You have the choice of which energy source you use. More people choosing to use renewable sources of energy will increase the demand and make it more likely that they'll succeed.
Inspire customers to make a strong statement by choosing us to be their energy provider. They not only reduce their carbon footprint but also increase the demand for green energy.
Facts
When fossil fuels are burnt, they release toxic chemicals into the atmosphere.

The abundance of renewable resources means that there is almost no chance they will run out.

A wind turbine is capable of generating enough electricity for 1,400 homes.

Three times as many jobs are created by renewable energy than fossil fuels.
So what can you do to take care of natural resources?
Reduce, Reuse, and Recycle are all possible! Turn off lights in rooms when not present. It will help reduce fossil fuels used in the production of electricity. Reduce the use of gas by walking and cycling more. Reuse things. You can reuse things like plastic bottles, jars, and paper bags. You can save natural resources by reusing items.
You can also recycle. Reusing natural resources or products to create something new is recycling. This also includes collecting and sending these items for reuse. Glass, certain plastics, paper and cardboard, steel, aluminum, as well as some other items, can all be recycled easily. Metals and some plastics can be difficult to recycle. They often consist of mixtures. It can be difficult to separate mixtures. Buy and use items that can be recycled.
What happens to your trash when you dispose of it? A landfill is one place where it can be found. Landfills are places where garbage can be safely dumped. The garbage must be kept closed so that it does not pollute the air or water. Incinerators are another place to dispose of garbage. Incinerators are large ovens that reduce garbage to ashes.
These ashes can then be disposed of in landfills. Compost piles are a third option for disposing of certain types of waste. Compost piles are made of natural waste such as grass, food scraps, and leaves. Compost piles aid in the decay of this waste. It can then be used to fertilize the soil. A waste stream is the movement of trash from one place to another, such as a landfill.
Renewable and Nonrenewable Resources Environmental Impact
The environmental impact of renewable and nonrenewable sources is vastly different. Nonrenewable fuels such as coal and oil hurt the environment. They cause air pollution and habitat destruction.
The extraction of fossil fuels through drilling, mining, and fracking can damage ecosystems and habitats. The combustion of fossil fuels also releases large quantities of greenhouse gasses, which contribute to climate change and global warming.
On the other hand, renewable resources have a much smaller environmental impact. The use of solar and wind power does not produce greenhouse gases or contribute to global warming. Renewable resources can also reduce the environmental impact of non-renewable energy extraction and transport.
Renewable resources do not come without environmental impact. Construction and maintenance of renewable infrastructure such as solar and wind panels can impact wildlife habitats. The production of renewable energy equipment and its disposal can also create pollution and waste.
While renewable energy has a lower impact on the environment than non-renewable, it's important to take into account all of the possible environmental effects and minimize any negative ones as much as you can.
Renewable and Nonrenewable Resources Cost
The use of non-renewable and renewable resources has significant environmental costs, but also economic ones. The cost to transport and process non-renewable energy sources, like coal and oil can be high.
The depletion and eventual exhaustion of these non-renewables can also have a long-term impact on the economy. These resources are less viable economically as they become more scarce. It can also lead to increased energy prices and economic instability.
On the other hand, renewable resources have lower costs in the long run. The initial cost to build renewable energy infrastructure may be higher, but the long-term costs of producing energy are generally lower. The use of renewables can also provide economic benefits such as the creation of jobs in the renewable energy industry.
There are, also challenges to the economic use of renewable energy. Solar and wind power, for example, are intermittent and can pose problems in terms of energy storage and grid management. The production of renewable energy devices and their disposal can also be costly.
While there are costs to both non-renewable and renewable energy sources, their long-term benefits, combined with the lower impact on the environment, make renewables a better choice in terms of sustainable energy production.
Renewable and Nonrenewable Resources Future
Renewable resources are the future of energy production. The negative effects of non-renewable energy on the environment, economy, and society are becoming more evident. There is a growing interest to switch over to renewable sources.
The advancements in technology have made renewable energy sources more efficient and cost-effective, making them competitive with non-renewable resources. Many countries have set ambitious goals for the production of renewable energy in the coming decades. Solar and wind power, in particular, are more accessible and widespread.
Global efforts to combat climate change also drive the shift toward renewable resources. Over 190 nations have signed the Paris Agreement which sets goals for greenhouse gas reductions and the transition to a low-carbon economy. The Paris Agreement, signed by over 190 countries, sets targets for reducing greenhouse gas emissions and transitioning to a low-carbon economy.
There are challenges in transitioning to renewable energy. The intermittence of renewable energy sources, like solar and wind, may create problems for grid management and energy storage. The production of renewable energy devices can also have economic and environmental costs.
The future of energy seems to shift towards renewable sources. Renewable resources become more competitive and available as technology advances and policy and investment support them. Renewable resources are expected to play a greater role in global energy supply as efforts continue towards sustainability, reducing greenhouse gases and other environmental issues.
Renewable and Nonrenewable Resources economically affect
Both renewable and nonrenewable energy sources have a significant economic impact. Oil and coal are nonrenewable energy resources that have been historically the main sources of energy. Their extraction, transport, and processing are expensive.
The depletion and eventual exhaustion of these non-renewables can also have serious economic implications. These resources are less viable economically as they become more scarce. It can also lead to increased energy prices and economic instability.
Renewable resources, on the other hand, have lower costs in the long run. Although the cost to produce energy from renewable resources is higher than non-renewable sources, this ongoing cost can still be lower. The use of renewables can also provide economic benefits such as the creation of jobs in the renewable energy sector.
There are also challenges about the economics of using renewable resources. Solar and wind power, for example, are intermittent and can pose problems in terms of energy storage and grid management. The production of renewable energy devices and their disposal can also be costly.
Despite these obstacles, renewable energy sources are becoming more attractive economically. Renewable resources become more affordable and available as technology improves and policy and investment support them. Renewable resources are also more environmentally friendly due to the economic impact of nonrenewables, including the cost of long-term depletion, and the potential for economic instability.
Summary
All the material in our surroundings that is used by life forms are called resources. Humans use natural resources, which are found in the world. Renewable resources include those that are not depleted but can be recycled. Air, water, land, and solar energy are all examples of renewable resources. Non-renewable natural resources are those that have a limited quantity. Coal, petroleum, and other examples are given.