Introduction to Light and Sound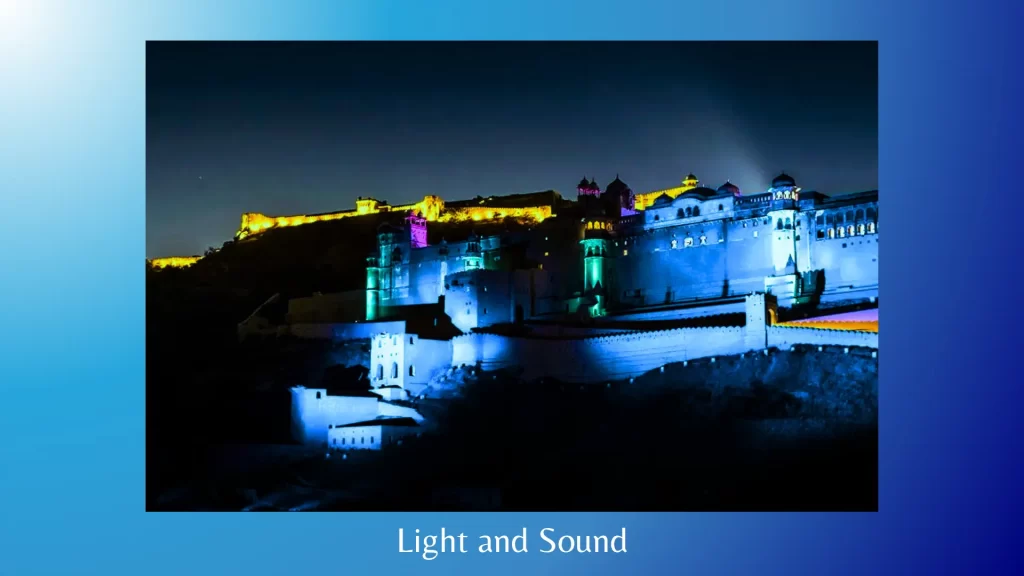 Light and sound are two fundamental forms of energy that play crucial roles in our everyday lives. Although they both involve the transmission of energy through waves, there are several key distinctions between light and sound. This article will examine the differences between Light and Sound, their behaviors, and their applications. We can better appreciate the unique qualities of light and sound and their impact on our world by gaining a greater understanding.
Understanding Light
Light, the essence of vision and perception, has fascinated humanity for centuries. From the warm glow of the sun to the vibrant colors of a rainbow, light surrounds us, shaping our experiences and providing us with a window into the world.
Light is an energy form that travels as electromagnetic waves. These waves consist of oscillating electric and magnetic fields that propagate through space. Understanding electromagnetic wave behavior is crucial in comprehending the complex nature of light and its implications.
Understanding Sound
Sound surrounds us every day, filling our lives with melodies, conversations, and the symphony of nature. Have you ever stopped to wonder about the essence of sound? How does it travel through space, reaching our ears with such clarity and precision? In this article, we delve into the captivating world of sound, unveiling its mysteries and shedding light on its intricate nature. So, let's embark on a sonic journey and unravel the secrets of Understanding Sound.
Sound is an auditory sensation produced by the vibrations of objects in our environment. These vibrations create waves that travel through various media such as air, water, or solid materials. When these waves reach our ears, they are transformed into electrical signals, allowing our brains to perceive and interpret them as sound.
Source of Light and Sound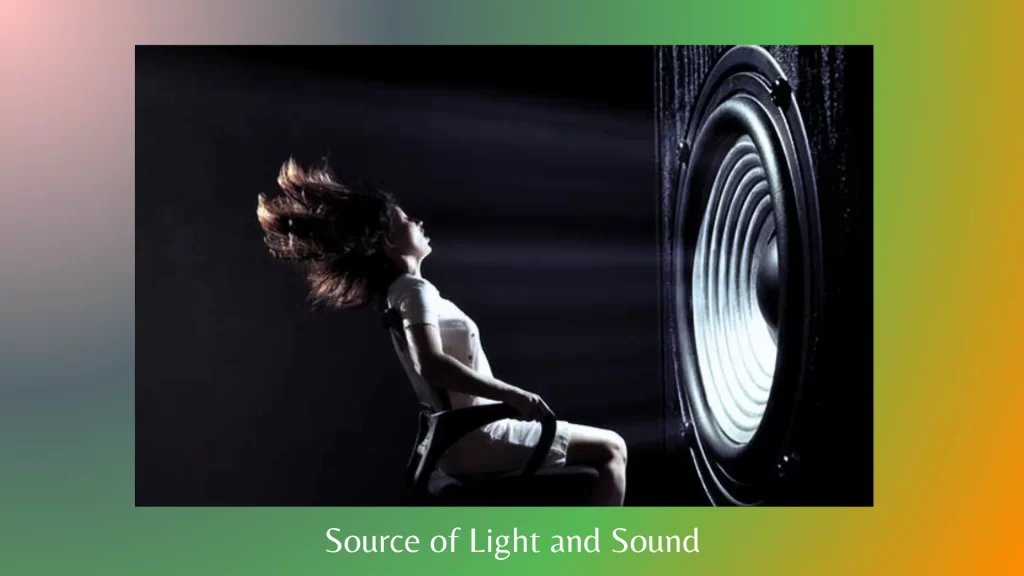 Light and sound, the fundamental elements of our sensory experiences, have sources that give birth to their mesmerizing phenomena. The illumination that brightens our surroundings and the resonance that fills our ears both arise from intriguing mechanisms and sources. In this article, we embark on an investigative journey into the origins of light and sound by exploring their various sources. So, let's delve into the captivating world of illumination and resonance as we explore the sources of light and sound.
Sources of Light
Light, with its remarkable ability to reveal the world around us, originates from various sources. Understanding the origins of light allows us to appreciate the complexity and diversity of its radiance.
The Sun: Our Celestial Illuminator
The Sun is the primary source of illumination on Earth. It's a huge ball of glowing, hot gas located at the heart of our solar system. The Sun's nuclear fusion produces an enormous amount of energy that radiates light and heat in space. Sunlight not only illuminates our world, but it is also essential in providing a vital foundation for various natural processes – including photosynthesis and the water cycle.
Artificial Light: Man-made Illumination
In addition to natural sources, humans have harnessed the power of electricity to create artificial light sources. Incandescent bulbs, fluorescent lamps, and LED lights are examples of such sources. These devices convert electrical energy into light through different mechanisms, providing illumination in homes, offices, and public spaces. The development of artificial lighting has revolutionized human activities, extending the hours of productivity and enabling activities during the night.
Bioluminescence: Nature's Glow
Certain organisms possess the unique ability to produce light through biochemical reactions, a phenomenon known as bioluminescence. Fireflies, deep-sea creatures, and some fungi are among the many organisms that emit light to attract mates, communicate, or ward off predators. The mesmerizing glow of these organisms adds a touch of magic to the natural world.
Sources of Sound
Sound, with its ability to create melodies, transmit information, and stir emotions, originates from diverse sources that set the stage for resonant experiences.
Vibrating Objects: Producing Auditory Waves
Sound is generated when objects vibrate, causing the surrounding air molecules to oscillate. The vibrations create waves that travel through the air and reach our ears, enabling us to perceive sound. Musical instruments, like guitars, pianos, and drums are examples of objects which generate sound through vibrations.
Human Voice: A Melodic Instrument
One of the most versatile and powerful sources of sound is the human voice. The vocal cords located in the larynx vibrate when air passes over them, producing speech, singing, and other vocalizations. The human voice carries emotions, conveys ideas, and fosters communication, making it an essential source of sound in our lives.
Environmental Sounds: Nature's Symphony
The world around us is teeming with sounds, forming a symphony of environmental noise. These natural sounds provide us with an aesthetically pleasing soundtrack for daily experiences. From leaves rustling in the wind to birds chirping and waves crashing onto the shore, nature provides us with a soothing and harmonious environment in which to live our lives. Environmental sounds connect us with nature while also contributing to our sense of place and well-being.
The sources of light and sound encompass a wide array of natural and artificial phenomena. From the radiant glow of the Sun to the enchanting melodies of the human voice, these sources captivate our senses and shape our perception of the world. By understanding the origins of light and sound, we gain a deeper appreciation for the intricacies and beauty of the illumination and resonance that surround us.
Types of Light and Sound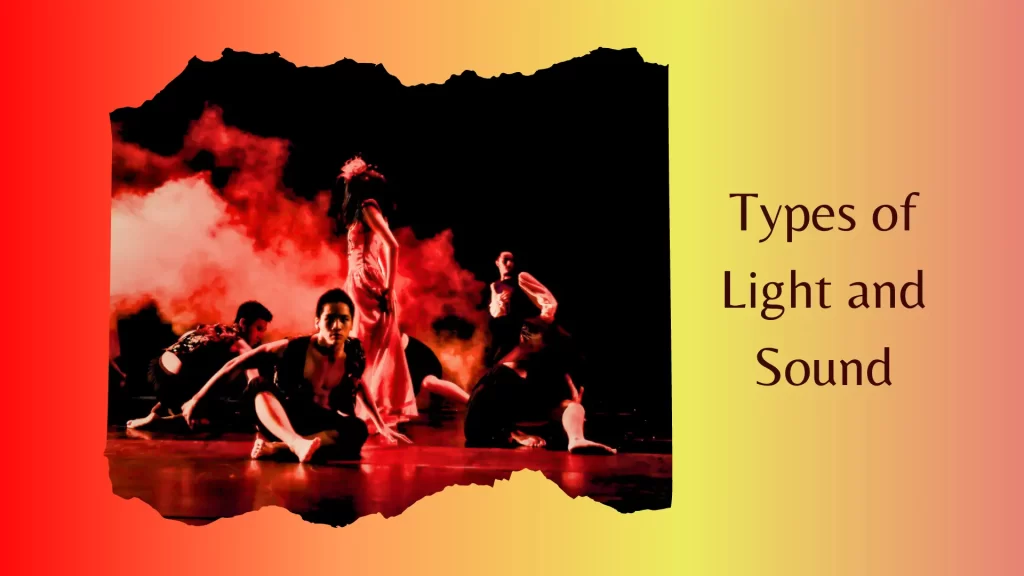 Light and sound encompass a vast spectrum of waves, each with its unique properties and characteristics. From the vibrant colors that paint our world to the melodies that stir our souls, the types of light and sound waves create a rich tapestry of illumination and resonance. So, let's delve into the captivating world of illumination and resonance as we explore the various types of light and sound.
Light, with its ability to reveal the world in vibrant hues, can be categorized into different types based on its wavelength and frequency. Let's explore the fascinating spectrum of light.
Types of Light
Visible Light: The Rainbow of Colors
Visible light is the portion of the electromagnetic spectrum that is perceivable to the human eye. It spans a range of colors, from red with the longest wavelength to violet with the shortest. The colors of the rainbow are red, orange, yellow, green, blue, indigo, and violet. which are all part of the visible light spectrum. Each color corresponds to a specific wavelength and carries its own unique energy and visual impact.
Ultraviolet (UV) Light: Beyond the Violet
UV radiation has shorter wavelengths than visible light, rendering it invisible to human eyes. UV light possesses higher energy and carries potential risks and benefits. It plays a crucial role in processes like vitamin D synthesis, but prolonged exposure to certain types of UV radiation can also be harmful to living organisms. UV light is widely used in applications such as sterilization, fluorescence, and tanning.
Infrared (IR) Light: Beyond the Red
The wavelength of Infrared light (IR) is longer than that of visible light. This makes it invisible to the eye. IR light is associated with heat, as it is emitted by objects with temperatures higher than absolute zero. It has various practical applications, including thermal imaging, remote controls, and even cooking.
Types of Sound: Melodies that Resonate
Sound waves, just like light waves, come in different types that are characterized by their frequencies and wavelengths. Let's explore the diverse world of sound.
Musical Sounds: Harmonies and Melodies
Musical sounds are organized combinations of different frequencies that create harmonies and melodies. Instruments, voices, and electronic devices produce musical sounds through controlled vibrations. The range of musical sounds spans from low bass tones to high treble notes, allowing for a vast array of musical genres and expressions.
Environmental Sounds: Nature's Symphony
Environmental sounds encompass a wide range of auditory experiences from the natural world. Environmental sounds include rustling leaves, chirping birds, crashing waves, and howling wind. They create a rich soundscape that connects us to our surroundings and evokes a sense of place and tranquility.
Noise: Unwanted Sound
Noise refers to unwanted or disruptive sounds that lack a pleasing or harmonious quality. It can be generated by various sources, such as machinery, traffic, or construction. Excessive exposure to noise can have negative effects on human health, including hearing loss and stress. Noise control measures are often employed to minimize their impact and create more peaceful environments.
The types of light and sound encompass a vast and diverse spectrum that adds richness and depth to our lives. From the kaleidoscope of colors in visible light to the harmonies of different musical genres, these types of light and sound waves shape our perception and evoke emotions. By understanding the characteristics and applications of different types of light and sound, we gain a deeper appreciation for the symphony of illumination and resonance that surrounds us.
Key Differences Between Light and Sound
Light and sound, the fundamental elements of our perceptual world, differ in their nature and behavior. As waves carry energy, light, and sound waves possess distinct characteristics that shape our sensory experiences. In this article, we delve into the key differences between light and sound, exploring their fundamental properties and shedding light on how they illuminate and resonate in our lives. So, let's uncover the essence of light and sound as we explore their differences.
Nature of Light and Sound: Electromagnetic vs. Mechanical Waves
The nature of light and sound waves forms the basis for their fundamental dissimilarity.
Light: Light is an electromagnetic wave that consists of oscillating electric and magnetic fields. It can propagate through a vacuum, such as outer space, as well as transparent mediums, like air and water. Light exhibits wave-particle duality, behaving both as a wave and as discrete particles called photons.
Sound: Sound is a mechanical wave that requires a medium, such as air, water, or solids, to propagate. It consists of compressions and rarefactions of the medium, creating areas of high and low pressure. Sound waves cannot travel through a vacuum, as they rely on the vibration and interaction of particles in the medium to transmit energy.
Propagation of Light and Sound: Speed and Medium Dependency
The propagation of light and sound waves differs in terms of speed and dependency on a medium.
Light: Light travels at a tremendous speed of approximately 299,792 kilometers per second (186,282 miles per second) in a vacuum. The speed of light is constant and is not significantly affected by the properties of the medium through which it passes. However, when light transitions between different mediums, it can change direction and speed due to refraction.
Sound: Sound travels at a much slower speed compared to light, varying depending on the medium it travels through. In air at room temperature, sound typically travels at approximately 343 meters per second (1,125 feet per second). The speed of sound is influenced by the temperature, density, and elasticity of the medium. Sound waves can experience reflection, refraction, and diffraction as they encounter different obstacles or mediums.
Perception of Light and Sound: Sensory Organs and Sensitivity
Our perception of light and sound involves the interaction of specialized sensory organs and our sensitivity to different wavelengths and frequencies.
Light: The human eye is the primary organ responsible for perceiving light. It contains photoreceptor cells called rods and cones that detect different wavelengths of light, allowing us to perceive colors and shapes. Humans are most sensitive to light in the visible spectrum, with peak sensitivity to green-yellow light.
Sound: The human ear is the primary organ for perceiving sound. It consists of various components, including the outer ear, middle ear, and inner ear. Sound waves are funneled into the ear canal, causing the eardrum to vibrate. These vibrations are then transmitted through the middle ear to the cochlea in the inner ear, where they are converted into electrical signals that the brain interprets as sound. Humans have varying sensitivity to different frequencies of sound, with the average range of audible frequencies falling between 20 Hz and 20,000 Hz.
Light and sound waves exhibit fundamental differences in their nature, propagation, and perception. While light is an electromagnetic wave that can travel through a vacuum, sound is a mechanical wave that requires a medium for transmission. Light travels at a high speed, and the medium has little effect on its propagation.
Sound travels slower and the medium's characteristics have a significant impact. Our perception of light relies on the specialized cells in our eyes, while our perception of sound relies on the intricate structures in our ears. Together, these distinctions shape the symphony of illumination and resonance that surrounds us.
Comparison Chart Between Light and Sound
To provide a comprehensive understanding of the differences between light and sound, we present a handy comparison chart that highlights key aspects of each:
| Aspect | Light | Sound |
| --- | --- | --- |
| Nature | Electromagnetic wave | Mechanical wave |
| Propagation | Can travel through a vacuum and transparent mediums | Requires a medium to propagate, such as air, water, or solids |
| Speed | Approximately 299,792 kilometers per second (in a vacuum) | Slower than light, varies with the properties of the medium |
| Medium Dependency | Speed remains relatively constant regardless of the medium | Speed is influenced by the temperature, density, and elasticity |
| Wave-particle Duality | Exhibits both wave and particle behavior (photons) | Does not exhibit wave-particle duality |
| Sensory Organ | Detected by the human eye through photoreceptor cells | Detected by the human ear through specialized structures |
| Sensitivity Range | The visible spectrum, with peak sensitivity to green-yellow light | Varies among individuals, typically between 20 Hz and 20,000 Hz |
| Perception | Enables vision and the perception of colors, shapes, and objects | Enables hearing and the perception of various sounds |
| Applications | Photography, illumination, communication (fiber optics), etc. | Music, speech, communication, sonar, ultrasound, etc. |
Can Light and Sound be used for communication?
Both light and sound can be used for communication, but they have distinct characteristics and applications in this context.
Light in Communication:
Light is commonly used for communication in various forms. One of the most prevalent applications is optical communication, which involves transmitting information through light signals. Fiber optic cables, for instance, utilize pulses of light to carry data over long distances with high speed and accuracy. This technology is widely used in telecommunications, internet connectivity, and networking.
Light signals can also be employed for visual communication. Visual cues, such as colors, symbols, and gestures, can convey messages and information. Traffic lights, signage, and visual displays are examples of how light is utilized to communicate instructions, warnings, or directions.
Additionally, light-based communication plays a significant role in various signaling systems. Morse code, for instance, uses combinations of light and darkness (represented as short and long signals) to encode and transmit messages. This form of communication was historically employed in telegraphy and signaling between ships or across long distances.
Sound in Communication:
Sound has long been a primary mode of communication among humans. Spoken language, conversations, and verbal interactions rely on the transmission and perception of sound waves. Through the articulation of speech sounds, we communicate ideas, thoughts, and emotions, engaging in meaningful dialogue.
Sound-based communication extends beyond spoken language. Nonverbal cues such as intonation, pitch, and rhythm add depth of meaning to verbal communication. These cues help convey emotions, emphasis, and intentions, enhancing the overall understanding and impact of the message.
In certain scenarios, sound signals serve as important means of communication. Sirens, alarms, and beeps are commonly used to alert individuals to potential dangers, emergencies, or specific situations. Animal calls, such as bird songs or whale vocalizations, are forms of sound-based communication used for mating, territory marking, or warning purposes within their respective species.
Combining Light and Sound:
In some cases, light and sound can be used together to enhance communication. For example, visual displays accompanied by sound can provide more comprehensive information and engage multiple senses simultaneously. In multimedia presentations, combining visual elements with spoken words or music can create a more immersive and impactful communication experience.
Both light and sound have important roles in communication. Light is utilized for optical communication, visual signaling, and conveying information through visual cues. Sound is essential for spoken language, non-verbal communication, and auditory signaling. By leveraging their unique properties and characteristics, we can effectively communicate and exchange information in various contexts.
How do Light and Sound affect our daily lives?
Light and sound have significant impacts on our daily lives, influencing various aspects of our perception, behavior, and experiences.
Let's explore how light and sound affect us on a day-to-day basis:
Light in Daily Life:
Vision and Perception: Light is essential for our vision. It enables us to perceive the world around us and distinguish colors, shapes, and textures. The amount and quality of light can affect our visual acuity, clarity, and overall perception of the environment.
Mood and Well-being: Light has a direct impact on our mood and well-being. Exposure to natural light, particularly sunlight, helps regulate our circadian rhythms, promoting better sleep patterns and overall health. Sunlight also stimulates the production of vitamin D, which is essential for bone health.
Productivity and Alertness: Adequate lighting is crucial for maintaining productivity and alertness. Well-lit workspaces enhance focus, reduce eye strain, and promote a sense of energy and engagement. Bright light can help combat drowsiness and improve concentration.
Aesthetics and Ambiance: Light plays a vital role in creating ambiance and setting the mood in our surroundings. The use of different lighting techniques, such as dimming, color temperature, and decorative lighting, can evoke specific emotions, enhance aesthetics, and create inviting spaces.
Safety and Security: Proper lighting contributes to our safety and security. Well-lit streets, walkways, and public areas improve visibility, reducing the risk of accidents and deterring potential criminal activities. In our homes, adequate lighting minimizes hazards and enhances overall security.
Sound in Daily Life:
Communication and Language: Sound is fundamental to communication. Spoken language enables us to express ideas, share information, and connect with others. We rely on sound to understand and interpret the spoken word, allowing for effective verbal communication.
Emotional Expression and Connection: Sound carries emotions and expressions. Music, for example, can evoke a wide range of emotions, uplift our mood, or provide comfort during difficult times. Sound-based communication, including tone of voice and intonation, conveys nuances of emotions, strengthening interpersonal connections.
Environmental Awareness: Sound helps us navigate and understand our environment. We rely on auditory cues to identify dangers, such as sirens, alarms, or warning signals. The ability to hear enables us to detect approaching vehicles, recognize animal sounds, and respond to potential threats in our surroundings.
Entertainment and Recreation: Sound is an integral part of entertainment and recreational activities. We enjoy music, podcasts, movies, and live performances, all of which rely on sound to engage our senses, evoke emotions, and provide enjoyment.
Personal Well-being: Sound can also impact our well-being. Calming sounds, such as nature sounds or white noise, can aid relaxation, meditation, and stress reduction. On the other hand, irritating or excessive noise can cause discomfort, sleep disturbances, and negative health effects.
Light and sound play essential roles in our daily lives. Light enables vision, affects our mood and well-being, and contributes to aesthetics and safety. Sound facilitates communication, emotional expression, environmental awareness, and entertainment. By understanding and appreciating the influence of light and sound, we can create environments that promote our overall well-being, productivity, and enjoyment.
Facilities and Limitations of Light and Sound
Facilities of Light:
Speed: Light is the fastest known phenomenon in the universe, traveling at a staggering speed of approximately 299,792 kilometers per second (186,282 miles per second) in a vacuum. This high speed allows light to transmit information rapidly, making it ideal for applications requiring quick data transfer.
Directionality: Light can be easily directed and focused using lenses, mirrors, and optical devices. This property enables precise control and manipulation of light beams, making it useful in various fields such as microscopy, telecommunications, and laser technology.
Energy Source: Light serves as a primary source of energy for many organisms and ecosystems on Earth. Through photosynthesis, plants convert light energy into chemical energy, fueling the growth and sustenance of life forms. Light energy is also harnessed through solar panels to generate electricity in renewable energy systems.
Visible Spectrum: The visible spectrum of light encompasses a range of wavelengths that human eyes can detect, resulting in the perception of different colors. This property allows for visual perception, color recognition, and appreciation of the vibrant world around us.
Limitations of Light:
Obstruction and Absorption: Light can be obstructed or absorbed by objects and materials it encounters. This limitation hinders its ability to pass through dense substances like walls, fog, or certain types of media. The obstruction and absorption of light can limit its range and effectiveness in certain applications.
Line of Sight: Light generally requires a clear line of sight to transmit information or travel. It can be easily disrupted by obstacles or blocked by opaque materials, which can hinder its ability to reach its intended destination. This limitation affects optical communication systems and limits the range of light-based signals.
Propagation in Vacuum: While light travels at an incredible speed in a vacuum, its speed is slightly reduced when it passes through a medium such as air, water, or glass. This speed reduction can cause refraction, scattering, and dispersion, affecting the accuracy and quality of transmitted light signals.
Facilities of Sound:
Versatility: Sound can propagate through various mediums, including air, water, and solids. This versatility allows sound to transmit information and travel in environments where light may face limitations, such as underwater or in opaque materials.
Omni-directional: Unlike light, which can be directed and focused, sound waves spread out in all directions from their source. This characteristic enables sound to reach a wide area, making it suitable for broadcasting, public address systems, and natural acoustic environments.
Long-range Transmission: Sound waves can travel over long distances with minimal loss of energy. This property makes sound an effective medium for communication, enabling us to hear sounds from distant sources and allowing for long-range acoustic signaling.
Limitations of Sound:
Speed: Sound travels at a much slower speed compared to light. Its velocity varies depending on the medium it passes through, but in the air at room temperature, sound travels at approximately 343 meters per second (1,125 feet per second). This slower speed can introduce delays in communication systems that rely on sound waves.
Interference and Distortion: Sound waves are susceptible to interference, distortion, and attenuation. Environmental factors such as obstacles, reflections, and background noise can affect the clarity and quality of sound signals, leading to reduced intelligibility and accuracy.
Limited Bandwidth: Sound waves have a limited range of frequencies that can be perceived by human ears. This range, known as the audible spectrum, typically spans from 20 Hz to 20,000 Hz. Beyond this range, sound becomes inaudible, limiting the bandwidth available for sound-based communication.
Understanding the facilities and limitations of both light and sound helps us utilize their respective properties effectively in various applications. By considering these characteristics, we can maximize the potential of light and sound in communication, technology, and our daily lives.
Conclusion to Light and Sound
Light and sound are essential elements in our lives, each with its unique characteristics and contributions. Light enables vision, energy, and aesthetics, while sound facilitates communication, environmental awareness, and emotional expression. Despite their limitations, both light and sound play significant roles in shaping our experiences and enhancing our understanding of the world around us. Through the interplay of light and sound, we can create engaging environments, effective communication systems, and innovative technologies that enrich our daily lives.