Introduction to Fuel and Oil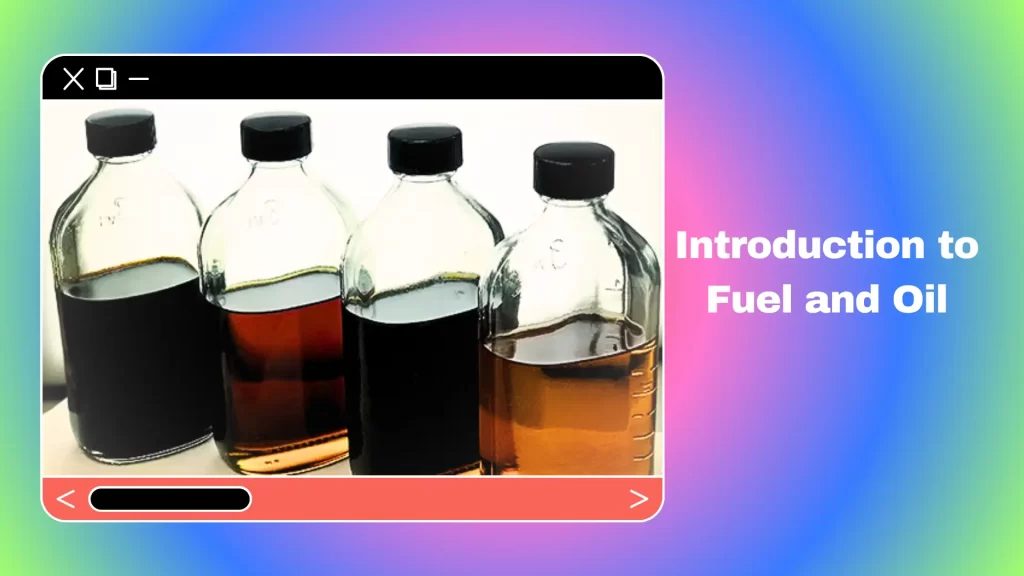 Fuel and Oil play a pivotal role in our modern world, powering various sectors and driving our daily lives. From transportation to industrial processes, fuel, and oil are essential commodities that enable the functioning of our global society. Now we will know about fuel and oil and also know details of their importance, types, production methods, usage, environmental impact, and much more. So fasten your seatbelts as we embark on an exciting journey to unravel the intricacies of fuel and oil!
Explanation of Fuel and Oil
Combustion or chemical reactions produce energy that is generated from fuel, while oil, also known as petroleum, is a particular type of fuel that comes from deep underground reservoirs.
Different kinds of fuel power transportation systems, from airplanes to ships, trains, cars, and other vehicles, enabling the movement of people and goods.It enables us to cover large distances in a short period of time. Without fuel, our ability to commute, explore, and connect would be severely limited.
Oil, as a prominent type of fuel, holds immense significance in our society. Gasoline, diesel, jet fuel, lubricants, and plastics are important in our lives and we can produce various products with them. From the fuel that powers our vehicles to the materials used in the manufacturing of goods, oil is deeply ingrained in our industrial processes and consumer economy.
The production of fuel and oil involves complex and interconnected processes. Exploration and extraction are carried out to identify and access underground reservoirs of oil and natural gas. Advanced technologies and geological surveys are employed to locate these valuable resources. Once extracted, the oil undergoes refining processes in specialized facilities called refineries. These processes separate the crude oil into its various components, each with its unique properties and applications.
The usage of fuel and oil extends beyond the transportation and industrial sectors. Fuels are the primary source of producing electricity. Power plants often rely on coal, natural gas, and oil to generate electricity. It also plays a critical role in heating systems for residential and commercial spaces, ensuring comfort and warmth during colder seasons.
The usage of fuel and oil is not without its environmental challenges. Carbon dioxide, which is the principal contributor to climate change and global warming, is released when fossil fuels are burned. The extraction, refining, and transportation processes also pose environmental risks, such as oil spills and air pollution. These worries have prompted greater attempts to create and utilize cleaner, more sustainable fuel sources, including hydrogen, biofuels, and renewable energy technology.
Fuel and oil are integral components of our modern society, powering transportation, industrial processes, and electricity generation. They have transformed the way we live and enabled global connectivity and economic growth. The environmental impact associated with their usage necessitates a shift towards sustainable alternatives. We can create a more sustainable and eco-aware future by embracing renewable energy sources and implementing greener behaviors.
Types of Fuel and Oil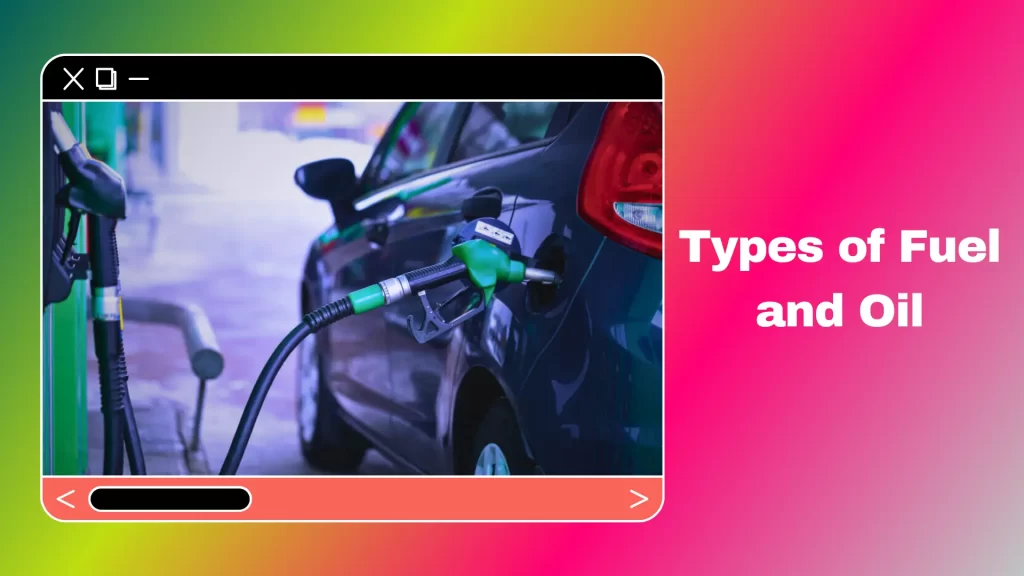 There are various types of fuel and oil used for different purposes. Let's explore some of the common types:
Types of Fuel
Gasoline: Petrol, commonly referred to as gasoline, is a common fuel for internal combustion engines in cars. It is a volatile liquid derived from crude oil through the refining process. Small engines, automobiles, and motorbikes are the main uses for gasoline.
Diesel: Diesel fuel is a heavier and less refined liquid fuel compared to gasoline. Diesel engines, such as those used in trucks, buses, ships, and certain vehicles, frequently use it. Diesel fuel has a higher energy density than gasoline and is known for its efficiency and torque.
Jet Fuel: Jet fuel, also called aviation turbine fuel (ATF), is specifically designed for use in jet engines. It is a highly refined and specialized fuel that provides high energy output and meets stringent aviation safety standards. Jet fuel is used in commercial and military aircraft.
The primary components of liquefied petroleum gas (LPG): a volatile hydrocarbon gas, are propane and butane.  It is commonly used as a fuel for heating, cooking, and certain vehicles. LPG is stored in pressurized containers and can be easily converted into a liquid state for transportation and storage.
Natural Gas: Natural gas is a gaseous fuel primarily composed of methane. It is drawn from subterranean reservoirs and utilized as a fuel for cars, as well as for heating and cooking. In comparison to other fossil fuels, natural gas is regarded as a cleaner-burning fuel.
Types of Oil
Crude Oil: Also known as petroleum, crude oil is a naturally occurring combination of hydrocarbons that may be discovered underground. It is the primary source of various fuels and oil-based products.
Lubricating Oil: Between moving parts, lubricating oil—also known as lubricants or motor oil—is used to lessen friction and wear.  It is commonly used in engines, machinery, and automotive applications to ensure smooth operation and extend the lifespan of mechanical components.
Transformer Oil: Transformer oil, also called insulating oil, is a specialized oil used in electrical transformers and other high-voltage equipment. It acts as both an electrical insulator and a coolant to dissipate heat generated during transformer operation.
Synthetic Oils: Synthetic oils are artificially manufactured lubricants that offer superior performance and stability compared to conventional oils. They can endure high temperatures, high pressures, and rigorous working conditions since they are made for particular uses.
These are some of the common types of fuel and oil used in various industries and applications. The precise gasoline or oil used depends on the intended usage, the equipment's or vehicle's requirements, as well as factors including efficiency, environmental considerations, and safety laws.
Source of Fuel and Oil
The primary sources of fuel and oil are natural resources that have undergone geological processes over millions of years.
Let's explore the main sources of fuel and oil in more detail:
Source of Fuel
Crude Oil: Crude oil is the most significant source of fuel worldwide. It is a fossil fuel formed over millions of years from the remains of ancient marine organisms.
Natural Gas: Natural gas is another important source of fuel. It is composed primarily of methane and is often found alongside petroleum deposits. Natural gas is collected by underground reservoirs. It is used for cooking, electricity generation, and as a fuel for vehicles. Compared to coal and oil, it is thought to burn cleaner.
Coal: The main applications of coal, a solid fossil fuel, are the production of power and industrial activities. It was created from the remnants of plants that inhabited marshy areas millions of years ago. Coal is extracted from underground or open-pit mines and utilized as a fuel in power plants after that.
Biomass: Biomass refers to organic matter derived from plants, crops, agricultural residues, and even waste materials. Processes like fermentation and transesterification may turn biomass into biofuels like ethanol and biodiesel. You may substitute these biofuels for gasoline and diesel.
Renewable Energy Sources: Despite not serving as direct fuel sources, renewable energy sources help provide clean, sustainable energy.
Solar energy may be utilized to generate electricity or heat water by using photovoltaic cells to capture solar energy.
Wind energy, harnessed through wind turbines, is another renewable source that generates electricity. While not fuels themselves, the electricity produced from these sources can power electric vehicles and be used in electrolysis processes to produce hydrogen fuel.
Nuclear Energy: Nuclear energy is generated through nuclear reactions in power plants. It involves the fission of uranium or plutonium atoms, releasing a significant amount of energy. Nuclear power plants produce electricity that can be used to power various applications, including electric vehicles and industrial processes.
Hydrogen: Hydrogen gas can be produced through various methods, such as electrolysis of water or from certain chemical reactions. It is a clean-burning fuel that can be used in fuel cells to generate electricity or combusted directly in engines. Hydrogen is considered a promising alternative fuel source due to its abundance and potential for zero-emission energy.
Each source has its unique characteristics and applications, and the diversification of fuel sources is crucial for achieving a more sustainable and energy-efficient future.
Source of oil
Oil, also known as petroleum, is primarily sourced from underground reservoirs through exploration and extraction processes.
Let's delve into the primary sources of oil:
Conventional Oil: Conventional oil is the most common source of petroleum. It is extracted from reservoirs that are relatively easy to access and tap into. These reservoirs are typically located in geological formations where oil has accumulated over millions of years. Conventional oil extraction involves drilling wells into the reservoirs and utilizing pumps to bring the oil to the surface.
Unconventional Oil: Unconventional oil refers to sources of petroleum that are more challenging to extract compared to conventional oil reservoirs. These sources include:a) Oil Sands: Oil sands, also known as tar sands, are a mixture of sand, clay, water, and bitumen. Bitumen is a thick, sticky form of petroleum. Surface mining or in-situ methods, such as steam-assisted gravity drainage (SAGD), are used to remove bitumen from the sands and transform it into synthetic crude oil in order to extract oil from oil sands.b) Shale Oil: Shale oil is a type of oil that is derived from fine-grained sedimentary rocks.
Fracking, also known as hydraulic fracturing, is necessary for the extraction of shale oil.
This process involves injecting a mixture of water, chemicals, and proppants into the shale formation, creating fractures that allow the oil to flow and be collected.
Offshore Oil: Offshore oil refers to oil reserves found beneath the seabed. It is extracted from offshore drilling platforms, also known as oil rigs or platforms, which are situated in oceans, seas, or lakes. Offshore drilling involves drilling wells vertically or horizontally beneath the water to access and extract the oil.
Enhanced Oil Recovery (EOR): Enhanced oil recovery techniques are utilized to extract additional oil from existing reservoirs that may have low natural pressure or have already undergone primary extraction methods. EOR methods include injecting steam, chemicals, or gases into the reservoir to reduce the viscosity of the oil or displace it towards production wells.
It is significant to remember that oil extraction can provide dangers and problems to the environment, including destruction of natural habitats, water pollution, and greenhouse gas emissions.
The industry is continually exploring and implementing technologies and practices to mitigate these impacts and ensure responsible extraction.
These are the primary sources of oil, including conventional oil reservoirs, unconventional sources like oil sands and shale oil, offshore oil reserves, and enhanced oil recovery techniques. Oil plays a crucial role in various sectors of our global economy, including transportation, energy production, and the manufacturing of numerous everyday products.
The production process of Fuel and Oil
The production process of fuel and oil involves several stages, from exploration and extraction to refining and distribution.
Let's explore each step in more detail:
Exploration and Reservoir Identification: The first stage of the production process involves identifying potential oil and gas reservoirs. Geologists and geophysicists use various techniques, such as seismic surveys and satellite imagery, to locate areas with the potential for oil and gas deposits. Once a prospective area is identified, exploratory drilling is conducted to confirm the presence of oil or gas reserves.
Extraction and Production: After the identification of oil and gas reserves, the extraction process begins. Extraction techniques vary depending on the type of reservoir and its location
Transportation and Storage: After collecting oil and gas it is sent to the refiner's section for processing. Pipelines are commonly used to transport oil and gas over long distances. Tanker ships are utilized for transporting oil from offshore drilling platforms to onshore facilities.
Refining and Processing: Upon reaching the refineries, the crude oil undergoes refining processes to separate it into various components and remove impurities. Refining involves distillation, where the crude oil is heated and separated into different fractions based on their boiling points. Additional processes, such as cracking, reforming, and treating, are employed to convert these fractions into valuable products like gasoline, diesel, jet fuel, lubricants, and other petroleum-based products.
Distribution and Marketing: Refined petroleum products are then distributed to various markets through a network of pipelines, tanker trucks, and storage facilities. Companies involved in the distribution and marketing of fuel and oil ensure that the products reach consumers, including gas stations, airports, industrial facilities, and residential users. These products are stored in tanks and distributed based on demand.
Environmental Considerations: Throughout the production process, environmental considerations are important. Measures are taken to minimize the environmental impact, such as implementing safety protocols to prevent oil spills, reducing greenhouse gas emissions, and complying with regulations for wastewater treatment and air pollution control.
The production process of fuel and oil involves a series of complex steps, including exploration, extraction, refining, transportation, and distribution. Each stage requires careful planning, advanced technologies, and adherence to safety and environmental standards to ensure the efficient and responsible production of these essential energy resources.
The key difference between Fuel and Oil
Combustion Process: The primary difference between fuel and oil lies in their combustion processes. Fuel is specifically designed to burn and release energy through combustion, whereas oil may or may not be used for combustion purposes. Oil, particularly motor oil, is more focused on lubrication and minimizing friction within engines.
Energy Content: Fuels generally have a higher energy content compared to oil. This is because fuels are specifically engineered to provide efficient energy release when burned. The energy content of a fuel is measured in terms of calorific value or heat of combustion.
Applications: Fuels find broad applications in transportation, power generation, and heating systems. They are indispensable for running vehicles and producing electricity. Oil, on the other hand, has diverse applications in lubrication, cooking, cosmetic industries, and various manufacturing processes.
Environmental Impact: Fuel combustion is often associated with environmental concerns due to the emission of pollutants and greenhouse gases. However, advancements have been made in developing cleaner and greener fuels, such as biofuels and electric power. Oil, especially when not properly disposed of, can also have negative environmental consequences.
Availability: Fuels, especially fossil fuels like gasoline and diesel, are widely available and easily accessible. Oil, such as crude oil, requires extraction and refining processes before it can be used. The availability of oil depends on its source and geographical factors.
Cost: The cost of fuel and oil can vary significantly. Fuel prices are influenced by global demand, geopolitical factors, and market fluctuations. Oil prices are determined by supply and demand dynamics, exploration and extraction costs, and refining processes.
Storage and Transportation: Fuels are typically stored and transported in specialized containers, such as fuel tanks and pipelines, due to their combustible nature. Oil, depending on its type, may have different storage and transportation requirements. Crude oil is transported through pipelines, tankers, and rail, while motor oil is packaged in containers and distributed through various channels.
Fuel and oil are distinct substances with different purposes and characteristics. Fuel is primarily used for energy generation through combustion, while oil serves as a lubricant and raw material in various industries. The key differences between fuel and oil lie in their combustion processes, energy content, applications, environmental impact, availability, cost, and storage requirements. Understanding these differences is essential for making informed choices regarding energy usage and sustainability.
Comparison chart between Fuel and oil
| Comparison Factors | Fuel | Oil |
| --- | --- | --- |
| Definition | A substance consumed for energy | A viscous liquid used for lubrication and as a raw material for fuel production |
| Usage | Powering engines and machines | Lubricating machinery and equipment |
| Types | Gasoline, diesel, jet fuel, LPG, natural gas | Crude oil, lubricating oil, heating oil, transformer oil, synthetic oils |
| Energy Content | Provides energy when burned | Primarily used for lubrication and reducing friction between moving parts |
| Combustion | Burns to release energy | Not designed to be burned as fuel |
| Flammability | Highly flammable | Less flammable compared to fuel |
| Storage | Stored in fuel tanks or cylinders | Stored in containers or reservoirs |
| Environmental Impact | Emissions contribute to air pollution | Spills or leaks can harm ecosystems |
| Production Process | Extracted, refined, and distributed | Extracted, refined, and used for various applications |
| Common Applications | Vehicle propulsion, electricity generation, heating | Lubrication, machinery operation, industrial processes |
Fuel and Oil Why it is Important for Industry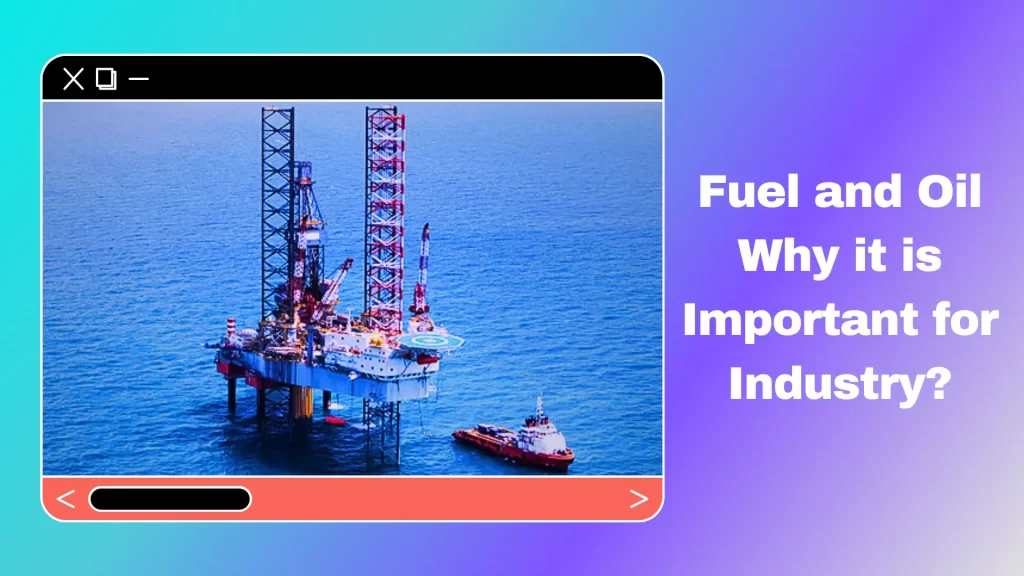 Fuel and oil play crucial roles in various industries due to their significant importance and diverse applications.
Let's explore why fuel and oil are essential for industry:
Energy Source: Fuel, such as gasoline, diesel, and natural gas, serves as a primary energy source for numerous industrial processes. It powers engines and machinery, providing the necessary energy for transportation, manufacturing, construction, and agricultural activities. Industries heavily rely on fuel to operate machinery, generate electricity, and facilitate the movement of goods and materials.
Manufacturing and Production: Oil is a vital raw material for many manufacturing industries. It serves as a feedstock for the production of plastics, chemicals, fertilizers, synthetic fibers, and various industrial materials. Without oil, the manufacturing sector would struggle to produce essential products and materials that form the backbone of industrial and consumer goods.
Lubrication: Oil, specifically lubricating oil, is essential for maintaining the smooth operation of machinery and equipment. It reduces friction between moving parts, preventing wear and tear, minimizing heat generation, and extending the lifespan of mechanical components. Proper lubrication with oils helps industries achieve higher efficiency, reduce maintenance costs, and ensure the reliable operation of critical machinery.
Heat Generation: Fuel and oil are used for heat generation in various industrial processes. They are employed in boilers, furnaces, and heating systems to provide thermal energy for processes like steam generation, space heating, and industrial heating. Industries rely on fuel and oil for maintaining optimal temperatures in manufacturing processes, chemical reactions, and other heat-dependent operations.
Transportation and Logistics: Fuel is indispensable for the transportation and logistics industries. It powers vehicles, including trucks, ships, trains, and airplanes, facilitating the movement of goods, raw materials, and personnel across vast distances. An efficient and reliable fuel supply is crucial for ensuring smooth and timely operations within the transportation and logistics sectors, supporting global trade and economic activities.
Economic Impact: The availability and affordability of fuel and oil directly impact the cost of production and the overall competitiveness of industries. Industries heavily reliant on fuel and oil are sensitive to fluctuations in prices and supply disruptions. Stable and accessible fuel and oil resources are vital for maintaining a robust industrial sector, driving economic growth, and supporting employment opportunities.
Research and Development: The fuel and oil industry continually invests in research and development to improve efficiency, develop cleaner fuels, and explore alternative energy sources. These advancements have far-reaching implications for industries by enabling greener and more sustainable practices, reducing emissions, and promoting environmental stewardship.
Fuel and oil are indispensable for industry, serving as energy sources, raw materials, lubricants, heat generators, and catalysts for economic growth and development. The availability, affordability, and sustainable use of fuel and oil resources are essential considerations for industries worldwide.
Environmental Impact of Fuel and Oil
The production, use, and disposal of fuel and oil have significant environmental impacts.
Let's explore the environmental aspects of fuel and oil:
Water Pollution: Oil spills, leaks, and improper disposal of oil-based products can contaminate water bodies, causing severe environmental damage. Oil spills from tanker accidents or offshore drilling operations can harm marine ecosystems, endanger aquatic life, and disrupt the balance of marine ecosystems. Proper safety measures, spill response plans, and wastewater treatment are essential to prevent and minimize water pollution incidents.
Habitat Destruction: The extraction and exploration of oil can result in habitat destruction, particularly in sensitive environments such as forests, wetlands, and offshore ecosystems. The construction of infrastructure, such as drilling platforms and pipelines, can disrupt natural habitats and impact biodiversity. Implementing responsible practices and minimizing the environmental footprint is essential for reducing habitat destruction.
Land Use and Deforestation: The exploration and extraction of oil may require land clearance, leading to deforestation and the loss of valuable ecosystems. Sustainable land management practices and adherence to environmental regulations can help mitigate these impacts.
Spill Response and Cleanup: Oil spills, whether from accidents or equipment failures, can have severe consequences for the environment. Rapid response and effective cleanup measures are essential to minimize the ecological damage caused by spills. The development and implementation of advanced spill response technologies and practices are critical for protecting sensitive habitats and wildlife.
Transition to Renewable Energy: The environmental impacts associated with fuel and oil highlight the importance of transitioning to renewable and cleaner energy sources.
To address the environmental impact of fuel and oil, governments, industries, and individuals are increasingly adopting measures such as stricter emissions standards, promoting energy efficiency, supporting renewable energy development, and enhancing environmental regulations. These efforts aim to minimize environmental harm and promote a more sustainable and resilient energy future.
The Daily Uses of Fuel and Oil
Fuel and oil play integral roles in our daily lives, serving a wide range of purposes.
Let's explore some of the common daily uses of fuel and oil:
Transportation: One of the primary daily uses of fuel is for transportation. Whether it's commuting to work, running errands, or traveling long distances, fuel powers our vehicles, including cars, motorcycles, buses, trucks, and airplanes. Without fuel, our daily mobility and connectivity would be significantly hampered.
Heating and Cooling: Many households rely on fuel and oil for heating and cooling purposes. Fuel is used in furnaces, boilers, and heating systems to provide warmth during colder months. Oil-based products, such as heating oil, help regulate indoor temperatures, ensuring comfort and maintaining a pleasant living environment.
Cooking: Fuel, in the form of natural gas, LPG, or other cooking fuels, is used for daily food preparation in kitchens around the world. Gas stoves, ovens, grills, and other cooking appliances rely on fuel to generate heat, allowing us to cook meals, boil water, and create culinary delights.
Electricity Generation: In many parts of the world, fuel is a primary source of electricity generation. Power plants, particularly those using fossil fuels like coal, natural gas, and oil, produce electricity to meet daily energy demands. This electricity powers our homes, offices, schools, and various electronic devices we use daily.
Industrial Processes: Fuel and oil play essential roles in various industrial processes. They are used to power machinery, equipment, and manufacturing processes in sectors such as manufacturing, construction, agriculture, and mining. Industrial activities, including the production of goods and materials, heavily rely on fuel and oil for daily operations.
Home and Personal Care Products: Many household and personal care products are derived from oil-based materials. Items such as plastics, cleaning agents, cosmetics, detergents, lubricants, and paints contain components that originate from oil. These products are used in our daily routines, contributing to our overall comfort and convenience.
Recreation and Leisure: Fuel and oil are also involved in various recreational activities. From powering boats, motorcycles, and recreational vehicles to fueling generators for camping trips or outdoor events, these activities rely on fuel for enjoyment and entertainment.
Emergency Services: Fuel and oil are critical for emergency services, including firefighting, ambulance services, and law enforcement. Vehicles, equipment, and machinery used by these services rely on fuel to operate effectively, ensuring prompt response and assistance during emergencies.
Agricultural Operations: The agricultural sector relies on fuel and oil for daily operations. Farming machinery, irrigation systems, and transportation of agricultural products heavily depend on fuel for efficient productivity and distribution.
Construction and Infrastructure Development: The construction industry relies on fuel and oil for heavy machinery, excavators, bulldozers, and trucks used in building roads, bridges, buildings, and other infrastructure projects. Fuel powers the machinery and equipment required for construction activities.
These are just a few examples of the daily uses of fuel and oil in our lives. The widespread applications of fuel and oil underscore their significance and the impact they have on various aspects of our daily routines and the functioning of society as a whole.
Conclusion
Fuel and oil are essential resources that have a profound impact on our daily lives and industries. They power our vehicles, provide heat and electricity, enable manufacturing processes, and support various aspects of modern life. It is crucial to acknowledge the environmental consequences associated with their production and use. As we strive for a more sustainable future, it is important to promote energy efficiency, invest in renewable energy sources, and adopt responsible practices to minimize the environmental footprint of fuel and oil. By doing so, we can ensure a balance between meeting our energy needs and preserving the health of our planet for future generations.