Introduction to iPhone and iPad
The iPhone and iPad are two popular devices developed by Apple that have revolutionized the way we communicate, work, and consume media. While both devices share similarities in terms of their operating systems and integration with the Apple ecosystem, they have distinct characteristics that set them apart.
The iPhone, first introduced in 2007, is primarily a smartphone designed for communication, with a focus on calls, messaging, and connectivity. It boasts a compact form factor, fitting comfortably in a hand or pocket, and offers a wide range of features including high-quality cameras, advanced security features like Face ID or Touch ID, and access to a vast ecosystem of mobile apps through the App Store. The iPhone is known for its sleek design, powerful performance, and portability, making it an indispensable device for people on the go.
In contrast, the iPad, introduced in 2010, is a tablet designed to provide a more immersive and expansive visual experience. With larger screen sizes, starting from 7.9 inches and going up to 12.9 inches, the iPad offers a versatile platform for various activities such as browsing the web, watching videos, reading e-books, and engaging in productivity tasks. It supports features like Apple Pencil compatibility and external keyboard support, making it a popular choice for creative professionals, students, and individuals seeking a more comfortable and productive computing experience.
While iPhones and iPads share the same underlying operating systems (iOS or iPadOS), their distinct form factors and functionalities cater to different user needs. The iPhone emphasizes portability, communication, and on-the-go convenience, whereas the iPad focuses on larger displays, enhanced productivity, and multimedia consumption. Choosing between an iPhone and iPad depends on individual preferences, intended usage scenarios, and the specific features that align with one's lifestyle and requirements.
In the world of technology, Apple is a big name. Due to their high performance and features, every user often desires iPhones and iPads. iPhone and iPad have common similarities with each other. It is important to know the difference before buying any of them.
History of Apple Company
Apple Incorporation is one of the world's most influential technology companies and has a rich history that spans over four decades. From its humble beginnings in a garage to becoming a global leader in innovation, Apple has redefined numerous industries and shaped the way we use technology today. This article delves into the fascinating journey of Apple, exploring its origins, iconic products, challenges, and future prospects.
Founding of Apple
The story of Apple began in 1976 when Steve Jobs, Steve Wozniak, and Ronald Wayne joined forces to create a computer company. Operating from Jobs' parents' garage, they introduced the Apple I, a computer with a revolutionary concept of a fully assembled circuit board. Despite its limited commercial success, the Apple I laid the foundation for what was to come.
Early Years and Apple II
Building upon the Apple I's lessons, Apple launched the Apple II in 1977. This personal computer was a breakthrough product, featuring color graphics and an open architecture. The Apple II became immensely popular, propelling Apple into the mainstream market and establishing its position as an industry pioneer.
The Macintosh Revolution
Apple began their Macintosh computer journey in 1984 and it then introduced the concept of the graphical user interface (GUI) and mouse too.
The Macintosh's user-friendly design and powerful capabilities revolutionized the computing industry, setting the stage for future innovations. However, initial sales were modest, and Apple faced internal struggles that led to Jobs' departure from the company.
Apple's Struggles and Steve Jobs' Return
Throughout the 1990s, Apple faced numerous challenges, including product failures and intense competition. In 1997, Steve Jobs returned to Apple as its CEO and initiated a remarkable turnaround. Jobs streamlined the product line, focusing on simplicity and aesthetics. The iMac and later the MacBook became iconic symbols of Apple's resurgence.
Apple's Renaissance: iPod, iPhone, and iPad
Apple revealed the iPod in the world in 2001 which is a portable music player and it was a perfect revolution to the way we listen to music. The iPod's success paved the way for further innovations, including the iPhone in 2007 and the iPad in 2010. These devices transformed industries such as telecommunications, music, and publishing, cementing Apple's position as an industry leader.
Apple's Design and Innovation
Apple is renowned for its commitment to design and innovation. From the sleek aesthetics of its products to the intuitive user interfaces, Apple's attention to detail sets it apart. The company's design philosophy emphasizes simplicity, elegance, and functionality, ensuring its products are both visually appealing and user-friendly.
Apple's Financial Success
Over the years, Apple's financial success has been remarkable. The company consistently generates substantial revenues and profits, enabling investments in research and development, acquisitions, and other strategic initiatives.
Journey of iPhone and iPad
The iPhone and iPad, two iconic devices created by Apple Inc., have redefined the way we communicate, work, and consume media. This article explores the remarkable journey of these revolutionary products, from their inception to their impact on the tech industry and their enduring popularity.
The Birth of the iPhone
In 2007, Apple introduced the first iPhone, a device that combined a mobile phone, iPod, and internet communication capabilities into a single device. With its sleek design, touchscreen interface, and intuitive user experience, the iPhone revolutionized the smartphone industry and set a new standard for mobile devices.
Revolutionizing the Smartphone Industry
The iPhone's impact on the smartphone industry was profound. Its introduction popularized touchscreens and ushered in the era of app-based mobile computing. The iPhone showcased the potential of a handheld device that could perform a myriad of functions, such as web browsing, email, messaging, and multimedia consumption, all with a user-friendly interface.
Evolution of the iPhone
Since its initial release, the iPhone has undergone significant evolution and introduced numerous groundbreaking features. Subsequent models introduced improvements in performance, camera capabilities, display quality, and connectivity. The introduction of Siri, Apple's virtual assistant, and the integration of biometric authentication with Touch ID and Face ID further enhanced the user experience.
Introduction of the iPad
Apple released the iPad in 2010, a tablet that was designed to bridge the gap from smartphones to laptops.With its larger screen and versatile functionality, the iPad offered a unique computing experience, ideal for content consumption, productivity tasks, and creative endeavors. The iPad's intuitive interface and extensive app ecosystem made it a game-changer in the tablet market.
Impact of the iPad
The iPad transformed industries such as education, entertainment, and enterprise. Its portability and long battery life made it a popular choice among students and professionals, enabling new ways of learning, collaboration, and productivity. The iPad also became a preferred device for media consumption, allowing users to enjoy books, movies, music, and games with immersive experiences.
The synergy between iPhone and iPad
The close integration between the iPhone and iPad has been a key factor in their success. Users can seamlessly transition between the two devices, leveraging the shared ecosystem, cloud services, and synchronized data. This synergy enhances productivity and convenience, making the iPhone and iPad a powerful combination for personal and professional use.
Continued Innovations and Features
Apple continues to innovate each time it releases a new version of the iPhone or iPad. Advances in processing power, camera technology, augmented reality capabilities, and software features have expanded the possibilities for users. The introduction of the Apple Pencil for the iPad has further enhanced its versatility, allowing for precise drawing, note-taking, and creative expression.
Market Success and Consumer Adoption
The iPhone and iPad have achieved remarkable success in the market. Their popularity is evident through high sales volumes and a devoted customer base. The devices have become status symbols, synonymous with quality, innovation, and a seamless user experience. Apple's strong brand image and marketing strategies have played a significant role in driving consumer adoption and loyalty.
Criticisms and Competitors
Despite their success, the iPhone and iPad have not been immune to criticisms. Apple has faced scrutiny over issues such as high pricing, perceived lack of customization options, and limitations in file management. Additionally, competitors have emerged, offering alternative smartphone and tablet options, driving innovation and intensifying competition in the market.
What is iPhone?
iPhone is a smartphone of excellent quality. Due to its extraordinary features and market price, it is admired and desired by people all over the world. It is produced, manufactured, and marketed by a company named Apple. Though it is very expensive, people are always eager to buy it due to its fantastic features. 
This has been designed to combine all the features of a computer, iPod, digital camera, and cellular phone. It works with the ios operating system, which is completely different from the operating systems of other smartphones. The owner of the company, Steve Jobs, released the first model of the iPhone in January 2007 in San Fransico. Till then, around 21 models have been released. It was the first smartphone where a touchscreen interface was used.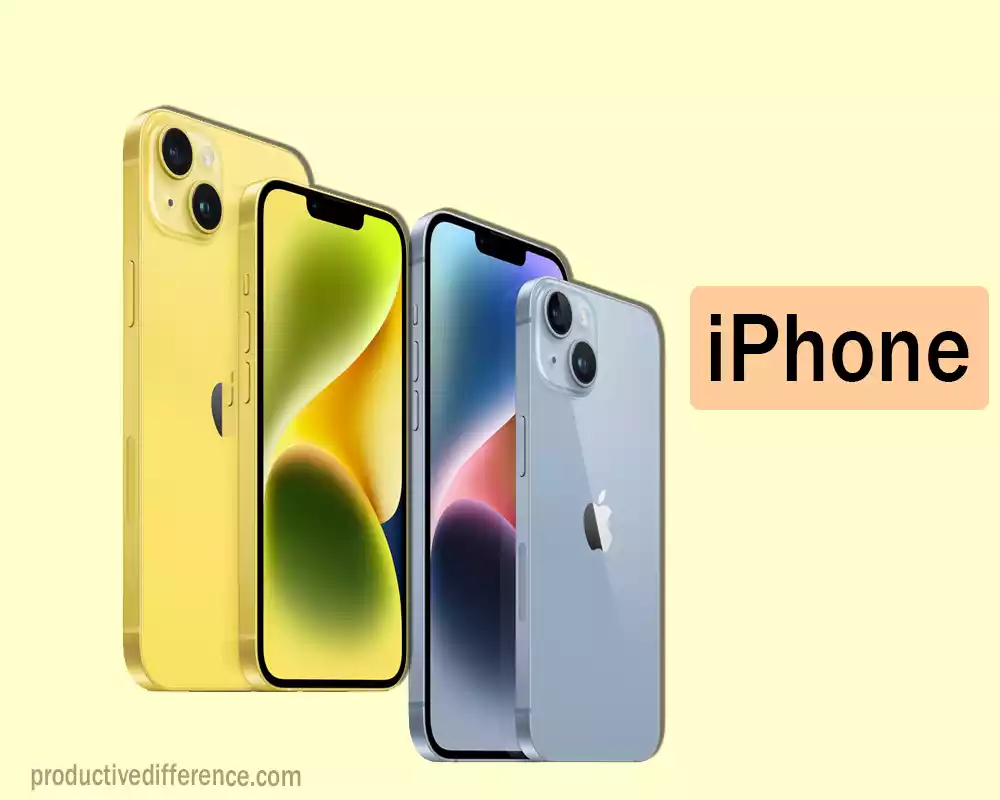 In the iPhone app store, around 3.2 million applications can be availed, out of which some are paid and some are free. On this phone, the internet speed runs the highest. So anyone can do their work on the internet fast. The best feature of an iPhone is that it cannot be hacked. iPhone's features are very different from other devices, and it is the reason that makes it unique.
What is iPad? 
iPad is also a product manufactured, marketed, and sold by a company named Apple. It can practically do everything that a computer can do. But it is lighter, smaller, and more convenient to use. One can read an article, compose an email, and with the camera app, one can take a picture and also a video.
An iPad comes with a touchscreen display and fingerprint identification. The performance of these devices gets better with each up-gradation. It is an excellent choice for general multitasking and downloading numerous applications. For quick video edits, iPads can come in handy. The gaming experience is quite impressive, as the work is very smooth, and there are no frame drops.
Every iPad has a very good Apple pencil experience. The Apple Pencil is responsive whether it is about drawing in any text field, copying handwritten notes as text, and generally having more precision when drawing or writing.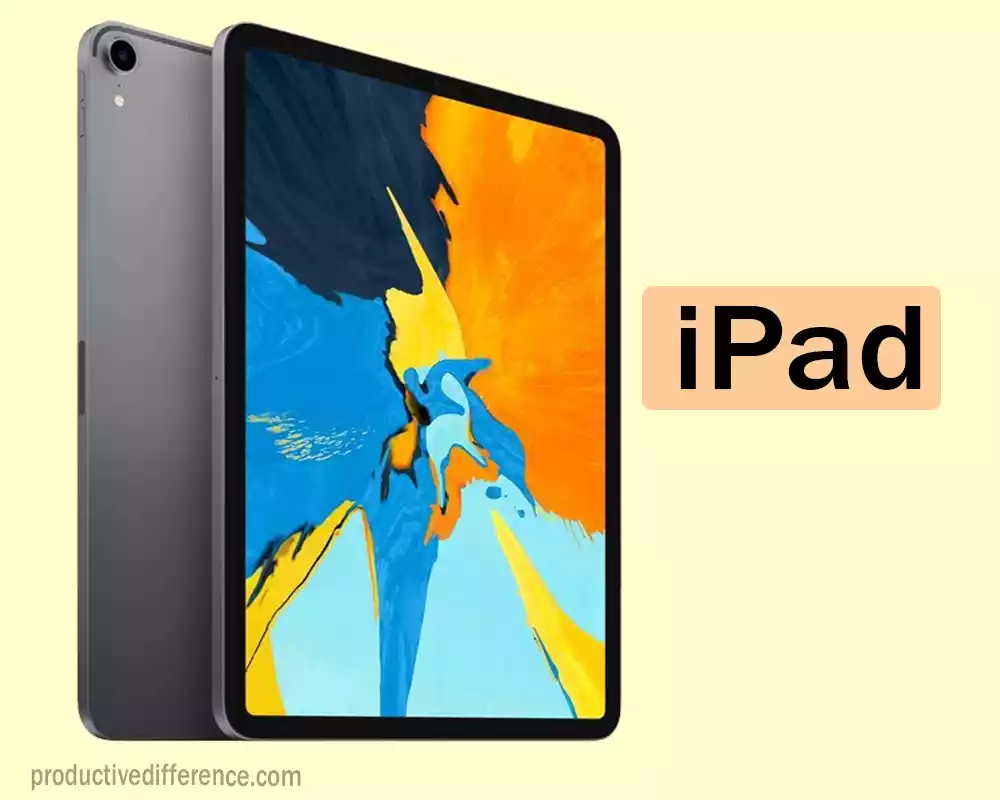 The best feature of an iPad is the smart connector. It allows the user to hook up keyboards that are powered directly through a smart connector. Probably one of the best selling points of an iPad is the battery life. This can be the best choice for anyone who is looking for quality rather than quantity.
Design and Structure Concept of iPhone and iPad
The design and structure of the iPhone and iPad play a crucial role in their success, combining aesthetics, functionality, and user experience. This article explores the design principles, key features, and the evolution of these iconic devices, highlighting their unique concepts that have captivated users worldwide.
Design Principles of iPhone
The iPhone's design is based on a few core principles: simplicity, minimalism, and attention to detail. Apple aims for a clean and elegant look, with a focus on eliminating unnecessary elements. The iPhone's slim profile, rounded corners, and seamless integration between hardware and software create a visually pleasing device.
Key Features and Components
The iPhone incorporates essential features such as the display, home button (or gesture-based navigation in newer models), volume controls, power buttons, and speakers. The device's design also encompasses the rear camera, front-facing camera, and various sensors, including proximity and ambient light sensors. Apple carefully considers the placement and integration of these components to ensure a cohesive design.
Evolution of iPhone Design
Over the years, the iPhone's design has evolved to accommodate technological advancements and user preferences. From the introduction of the Retina display, which enhanced visual quality, to the removal of the home button in favor of Face ID or Touch ID, each iteration of the iPhone has brought refinements and improvements. The design evolution reflects Apple's commitment to pushing boundaries and creating a seamless user experience.
Design Principles of iPad
Similar to the iPhone, the design principles of the iPad emphasize simplicity, elegance, and versatility. Apple strives for a device that is lightweight, ergonomic, and comfortable to hold. The iPad's larger screen size compared to the iPhone allows for enhanced productivity and immersive experiences.
Key Features and Components
The iPad incorporates key features such as the display, home button or gesture-based navigation (depending on the model), volume controls, power buttons, and speakers. The device also has a front camera and a rear-facing camera and also with sensors like an accelerometer, ambient light sensor, gyroscope, and gyroscope. The design of the iPad ensures that these components are seamlessly integrated into the overall structure.
Evolution of iPad Design
As with the iPhone, the design of the iPad has evolved to meet user needs and technological advancements. The introduction of slimmer bezels and edge-to-edge displays has maximized the screen real estate and reduced the overall device footprint. The addition of Apple Pencil support expanded the creative capabilities of the iPad, while accessories like the Smart Keyboard transformed it into a productivity tool. The iPad Pro models pushed the boundaries further with a sleeker design and a USB-C port for increased connectivity.
The Synergy between iPhone and iPad Design
Despite their differences in size and functionality, the design of the iPhone and iPad maintains a consistent and cohesive aesthetic. This synergy allows users to seamlessly transition between the two devices, leveraging a shared design language and familiar user interface. The cohesive design creates a sense of continuity and enhances the overall user experience.
The key difference between iPhone and iPad
The iPhone and iPad, both popular Apple devices, have some key differences that set them apart:
Form Factor: The iPhone has a compact and portable form factor and itIn 2010, Apple unveiled the iPad, a device that redefined the tablet experience. can be easily carried in your pocket or hand. The iPad, on the other hand, has a larger screen size, resembling a tablet, which offers a more immersive visual experience.
Display: iPhones come in various sizes, ranging from smaller options like the iPhone SE to larger models like the iPhone 13 Pro Max. iPads, meanwhile, offer even larger displays, such as the iPad Pro with screen sizes of up to 12.9 inches, providing more room for productivity and multimedia activities.
Productivity and Creativity: While both devices support productivity and creativity, the iPad is often considered more suitable for tasks that require a larger display and more screen real estate. iPads support external keyboard compatibility and are optimized for tasks like content creation, graphic design, and multitasking, making them popular among professionals and creatives.
Cellular Connectivity: iPhones are available with both cellular and Wi-Fi connectivity, allowing users to make calls and access the internet on the go. Some iPad models also offer cellular connectivity, providing users with the flexibility to stay connected even when outside of Wi-Fi coverage.
Phone Features: As the name suggests, the iPhone is primarily a smartphone and offers features such as calling, messaging, and a dedicated cellular connection. iPads, while capable of making calls through internet-based services, do not have the same phone functionality as iPhones.
Portability and Convenience: Due to its smaller size, the iPhone is more portable and convenient for everyday use. It easily fits in pockets and can be carried anywhere, making it a popular choice for those who prioritize mobility. iPads, with their larger size, are generally better suited for activities where a larger display is beneficial, such as media consumption, reading, or working on complex tasks.
It's important to note that both devices share the same underlying operating systems (iOS and iPadOS), offer access to the App Store, and integrate seamlessly with other Apple devices, ensuring a cohesive user experience within the Apple ecosystem. The choice between an iPhone and iPad ultimately depends on individual needs, preferences, and the intended usage scenario.
iPhones are smartphones with calling capabilities, while iPads are tablet computers without built-in phone functionality.
iPads have larger screens and typically offer more powerful hardware than iPhones.
iPhones are more portable and pocket-friendly, whereas iPads are better suited for tasks requiring a larger display and more processing power.
iPhone can be used for calling people, whereas an iPad cannot make a call.
iPhone can use data over a cellular network. But iPad has two versions. In one, it can use data, but in the other, it cannot.
The screen sizes of both of these gadgets are different. iPhone is comparatively smaller than an iPad.
Comparison chart between iPhone and iPad
| Features | iPhone | iPad |
| --- | --- | --- |
| Operating System | iOS | iPad |
| Form Factor | Compact and portable | Larger screen size |
| Display | Various sizes (e.g., 5.4″, 6.1″, 6.7″) | Various sizes (e.g., 10.2″, 10.9″, 12.9″) |
| Processor | A-series or M1 chip | A-series or M1 chip |
| Storage Capacity | Multiple options (e.g., 64GB, 128GB, 256GB, 512GB) | Multiple options (e.g., 64GB, 256GB, 512GB, 1TB) |
| Camera | High-resolution rear and front cameras | Rear and front cameras |
| Face ID/Touch ID | Face ID or Touch ID | Touch ID (some models) |
| Cellular Connectivity | 5G, 4G LTE | 5G, 4G LTE (cellular models) |
| Apple Pencil Support | Some models | Some models |
| Keyboard Compatibility | Third-party keyboards or virtual keyboard | External keyboard support |
| Battery Life | Varies by model | Varies by model |
| App Ecosystem | Extensive App Store library | Extensive App Store library |
| Productivity | Supports various productivity apps | Optimized for productivity and creativity |
| Gaming | Supports high-quality gaming | Supports gaming with enhanced graphics |
| Price Range | Various price points | Various price points |
Business Strategy of iPhone and iPad
The success of the iPhone and iPad goes beyond their innovative features and sleek design. Apple's business strategy plays a crucial role in positioning these devices as industry leaders. This article explores the key components of Apple's business strategy, including product differentiation, ecosystem integration, marketing, pricing, retail, customer support, and global expansion.
Product Differentiation and Innovation
One of Apple's core strategies is product differentiation through continuous innovation. The iPhone and iPad are known for their cutting-edge features, intuitive user interfaces, and seamless integration of hardware and software. Apple invests heavily in research and development to introduce new technologies, enhance performance, and offer unique functionalities that set its devices apart from competitors.
Ecosystem and Integration
Apple's ecosystem strategy is a significant differentiator for the iPhone and iPad. The devices seamlessly integrate with other Apple products and services, such as Mac computers, iCloud, iTunes, and the App Store. This integration creates a cohesive user experience and strengthens customer loyalty. The ecosystem also encourages users to invest in additional Apple products, expanding their presence in the Apple ecosystem.
Marketing and Branding
Apple's marketing strategy focuses on creating an emotional connection with consumers. The company emphasizes the user experience, highlighting how the iPhone and iPad can simplify and enhance people's lives. Apple's iconic branding, captivating advertisements, and strong brand image contribute to the desirability and perception of quality associated with their devices.
Pricing Strategy
Apple has set their iPhone and iPad at premium price models which positioned them as high-end devices with superior quality and performance. The company's pricing reflects the value it places on design, innovation, and user experience. While this strategy targets a more affluent consumer segment, it also reinforces the perception of exclusivity and premium status.
Retail and Distribution Strategy
Apple's retail stores play a vital role in its business strategy. These stores provide a unique customer experience, allowing users to try out devices, receive expert advice, and participate in workshops. Apple's direct sales model ensures control over the customer experience and enables the company to showcase its products effectively. Additionally, Apple partners with authorized resellers and telecom carriers to expand distribution channels.
Customer Support and Service
Apple's commitment to customer support and service contributes to its business strategy. The company offers extensive after-sales support, including warranties, technical assistance, and software updates. The AppleCare program provides additional coverage and support options. This emphasis on customer satisfaction builds loyalty and enhances the overall ownership experience.
Global Expansion and Market Penetration
Apple's business strategy includes a focus on global expansion and market penetration. The iPhone and iPad are available in numerous countries, with localized marketing campaigns and support services. Apple adapts its strategy to regional preferences, collaborating with local partners and addressing specific market needs. This global reach and market presence contribute to Apple's strong position in the mobile and tablet industry.
A Glorious Successful History of the iPhone and iPad
The iPhone and iPad have undoubtedly carved their places in history as iconic devices that revolutionized the technology landscape. This article delves into the glorious and successful history of the iPhone and iPad, exploring their transformative impact, unforgettable milestones, and the legacy they continue to build.
The iPhone: Revolutionizing the Smartphone Industry
The iPhone was introduced in 2007 which marked a major turning point for the smartphone industry. Its innovative touch interface, app ecosystem, and seamless integration of features changed the way people interacted with mobile devices. Now iPhone has set a new standard for design, usability, and functionality which attracts all people and Has made a top position as a leader in the market.
The iPad: Redefining the Tablet Experience
Apple launched the iPad in 2010. It redefined tablet computing. With its larger display, powerful performance, and intuitive interface, the iPad offered a versatile platform for content consumption, productivity, and creativity. The iPad's success stemmed from its ability to bridge the gap between smartphones and laptops, catering to various user needs and opening up new possibilities for digital experiences.
Unforgettable Milestones and Achievements
Throughout their history, the iPhone and iPad have achieved remarkable milestones. From the introduction of new models with advanced features to the expansion of the App Store, each milestone brought enhanced capabilities and improved user experiences. The introduction of technologies such as Face ID, Touch ID, Retina displays, and the Apple Pencil further elevated the devices' appeal and functionality, pushing the boundaries of what was previously thought possible.
Impact on Technology and Society
The iPhone and iPad have had a profound impact on both technology and society. They have transformed the way we communicate, work, learn, and entertain ourselves. The App Store ecosystem revolutionized app development and distribution, giving rise to a thriving app economy and empowering developers to create innovative solutions. These devices have also played a role in bridging the digital divide, making technology more accessible and inclusive.
The Legacy Continues: Future Possibilities
As the glorious history of the iPhone and iPad unfolds, their legacy continues to evolve. Apple's commitment to innovation, design, and user experience ensures that these devices will remain at the forefront of technology. Future possibilities include advancements in artificial intelligence, augmented reality, and connectivity, pushing the boundaries of what we can achieve with mobile and tablet devices.
Current Market Condition of iPhone and iPad
Now we will know an overview of the current market condition of the iPhone and iPad. It examines the performance of these devices, the impact of the COVID-19 pandemic, the competitive landscape, and the future outlook for Apple's flagship products.
Market Overview
The global market for smartphones and tablets has witnessed steady growth over the years. Both the iPhone and iPad continue to be key players in their respective markets. The demand for smartphones and tablets remains high, driven by factors such as technological advancements, increased digitalization, and consumer preferences for mobile devices.
iPhone Market Condition
The iPhone continues to be a dominant force in the smartphone market. Apple's latest iPhone models boast powerful performance, advanced camera systems, and innovative features. The iPhone's loyal customer base, coupled with its strong brand image, contributes to its market success. However, the smartphone market is highly competitive, with rival manufacturers offering their own flagship devices.
iPad Market Condition
The iPad has maintained its position as a leading tablet in the market. Apple's focus on performance, versatility, and productivity features has resonated with consumers. The iPad's integration with the Apple ecosystem, including compatibility with the Apple Pencil and keyboard accessories, further enhances its appeal. The tablet market has seen increased demand, driven by remote work and learning trends.
Impact of COVID-19
The COVID-19 pandemic has had a mixed impact on the iPhone and iPad market. On one hand, the increased need for remote work, online education, and digital entertainment has driven demand for mobile devices. On the other hand, supply chain disruptions and economic uncertainties have affected production and consumer purchasing power. Apple has adapted to these challenges and continued to innovate, meeting the changing needs of consumers.
Competitive Landscape
The smartphone and tablet markets are highly competitive, with numerous manufacturers vying for market share. Apple faces competition from Android-based smartphones and tablets offered by companies such as Samsung, Huawei, and Xiaomi. These competitors strive to differentiate themselves through features, design, and pricing strategies, providing consumers with a range of options to choose from.
Future Outlook
The future outlook for the iPhone and iPad remains positive. Apple's commitment to innovation, user experience, and ecosystem integration positions these devices for continued success. Advancements in technologies such as 5G, augmented reality, and artificial intelligence present opportunities for Apple to further enhance the capabilities of its devices and meet evolving consumer demands. The expansion of services like Apple Arcade and Apple TV+ also contributes to the growth potential of the iPhone and iPad.
Current Market Value of iPhone and iPad
Factors Influencing Market Value
Several factors contribute to the market value of the iPhone and iPad. These include product performance, technological advancements, design and aesthetics, brand reputation, customer demand, competition, and economic factors such as supply and demand dynamics and currency fluctuations.
iPhone Market Value
The iPhone continues to command a significant market value. Apple's flagship smartphone consistently ranks among the top-selling devices globally. The market value of the iPhone is influenced by factors such as the latest model releases, technological innovations, user experience, camera capabilities, and the brand's reputation for quality and reliability.
iPad Market Value
The iPad also holds a considerable market value in the tablet segment. Apple's focus on performance, versatility, and user experience contributes to the iPad's market value. The introduction of new iPad models with improved features, such as larger displays, faster processors, and enhanced Apple Pencil support, impacts the market value of these devices.
Impact of Brand Value
Apple's brand value plays a crucial role in determining the market value of the iPhone and iPad. The company's reputation for quality, innovation, and user-centric design creates a strong brand image and customer loyalty. Apple's brand value influences consumers' perception of the iPhone and iPad, allowing the company to command premium prices and maintain a competitive edge.
Market Trends and Projections
The market value of the iPhone and iPad is subject to ongoing trends and projections. Factors such as technological advancements, consumer preferences, market competition, and global economic conditions shape these trends. Projections indicate that the demand for smartphones and tablets will continue to grow, driven by factors such as increasing digitalization, remote work and learning trends, and the integration of advanced technologies like 5G and augmented reality.
Final opinion
The iPhone and iPad are two distinct devices offered by Apple. The iPhone is a compact and portable smartphone designed for communication, while the iPad is a larger tablet geared towards productivity and multimedia consumption. While they share the same operating systems and integration with the Apple ecosystem, their form factors, functionalities, and target use cases differentiate them. The choice between an iPhone and iPad ultimately depends on individual preferences and the specific needs of the user.