Do you know the fascinating fact about the differences between baking and broiling?
When it comes to cooking methods, broiling and baking are two popular techniques that offer several advantages. We often sing the praises for a sheet pan dinner and with good reason. The sheet pan dinner has always been there to help us on our busiest of days. We love to throw all our ingredients onto a baking sheet and pop it into the oven. It's a quick way to get a delicious dinner on the plate.
Our oven can be our friend when it comes to cooking a quick dinner on a busy weeknight. Are you using the full potential of your oven? When used correctly, your oven's different modes can produce incredible results. Understanding the basics of your oven will help you create your best dishes yet.
Baking and broiling, two of your most frequently utilized oven modes, will be covered in this post. We'll explain all you need to know about them as well as provide recipes so you can maximize their usage!
What is Broiling?
The broiling method involves exposing food directly to heat, either in the broiler pan or the broiler drawer (a drawer below or above the actual oven). Infrared heat is used to cook using this method.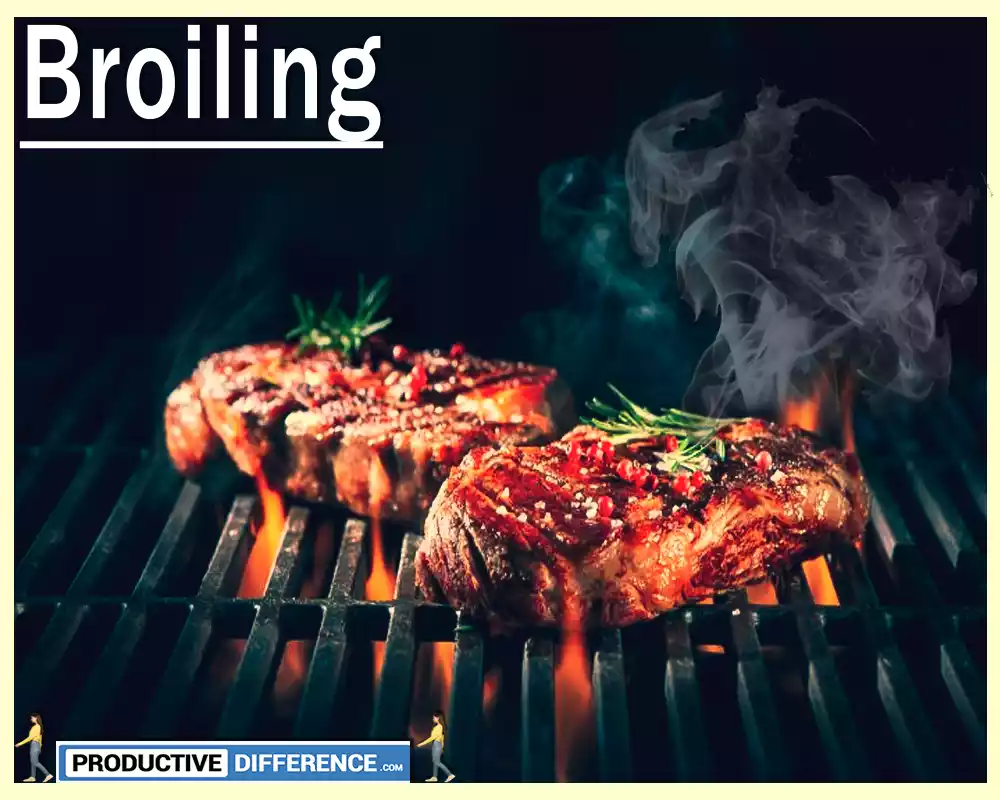 This high temperature makes the food crispier and more charred in less time than it would take on a stovetop. Broiling is as simple as turning the temperature knob of the oven on to broil. The result of broiling is similar to that achieved by grilling, but you don't need a barbecue or grill.
Should you broil your meat?
After baking or roasting, broiling can be used to brown the item quickly without damaging the internal structure. Broiling is a good option for delicate meats like fish. You can also use it to add a layer of slightly charred and bubbly browned cheese on top of casseroles, pasta with cheese, or pizzas. Broil the bread to toast it quickly, but be sure to keep an eye on it.
Which are the best types of food to broil?
Broiling is the best method for cooking smaller pieces of meat, such as tenderloin, chicken breasts, or pork chops. The high temperature will sear your food quickly. Broiling can be used to cook vegetables such as zucchini or asparagus.
The exterior of the food is seared when broiling, not the interior. Broiling a thick piece of meat can result in it being undercooked. You can try the
Following thinner cuts
Chicken breasts without bones

Pork tenderloin

Hamburgers

Fish like salmon & tilapia
Vegetables can be cooked under the broiler. You can also eat and enjoy raw vegetables like onions and peppers.
Colony Diner uses a variety of cooking techniques to enhance the flavor of its fresh ingredients. We have a wide variety of dishes on our menu, from broiled scrod and baked chicken to grilled scrod. Visit our Wallingford Restaurant today if you still haven't unveiled the grill in preparation for the spring.
Broil Pros
Broiling is a great option for people who enjoy the texture and taste of food cooked on an open flame. Broiling produces a natural browning that adds depth to the flavor of meals. Broil cooking is a good choice for people who like to cook their meals quickly.
The cleanup is minimal since most of the fat and residue from cooking are burned off.
Broil is also much more energy-efficient than traditional cooking methods, which makes it an excellent option. The Broil also makes a great option for people who like to cook inside, since it can be used with most ovens.
The fat content of broiling cooking is lower than that of regular cooking

It is faster, easier, and cheaper to broil.

The healthy and delicious way to cook is by broiling

This product is ideal for large-scale cooking

Healthy Broiling
Broil Cons
This high-end broiler has many features. This product has a few drawbacks. The Broil can be quite pricey, and many people cannot afford it. It is also bulky, making it difficult to install or move in small kitchens. Thirdly, certain features, such as convection, aren't widely used. This means that they may not be used.

The Broil does not use energy efficiently, as it consumes a lot of electricity, and produces a high level of heat. When deciding to buy the Broil, you must consider all of these factors.
The healthiest way to cook is by broiling.

Food tastes better when you add this ingredient

The nutrients in food are locked up when you broil it

Cooking is faster.
What is baking?
In baking, food is cooked by circulating heated air inside an oven. The temperature ranges from 170 to 400 degrees Fahrenheit. Roasting is the process of cooking food at higher temperatures (over 400 degrees, but under 550 degrees) in an oven.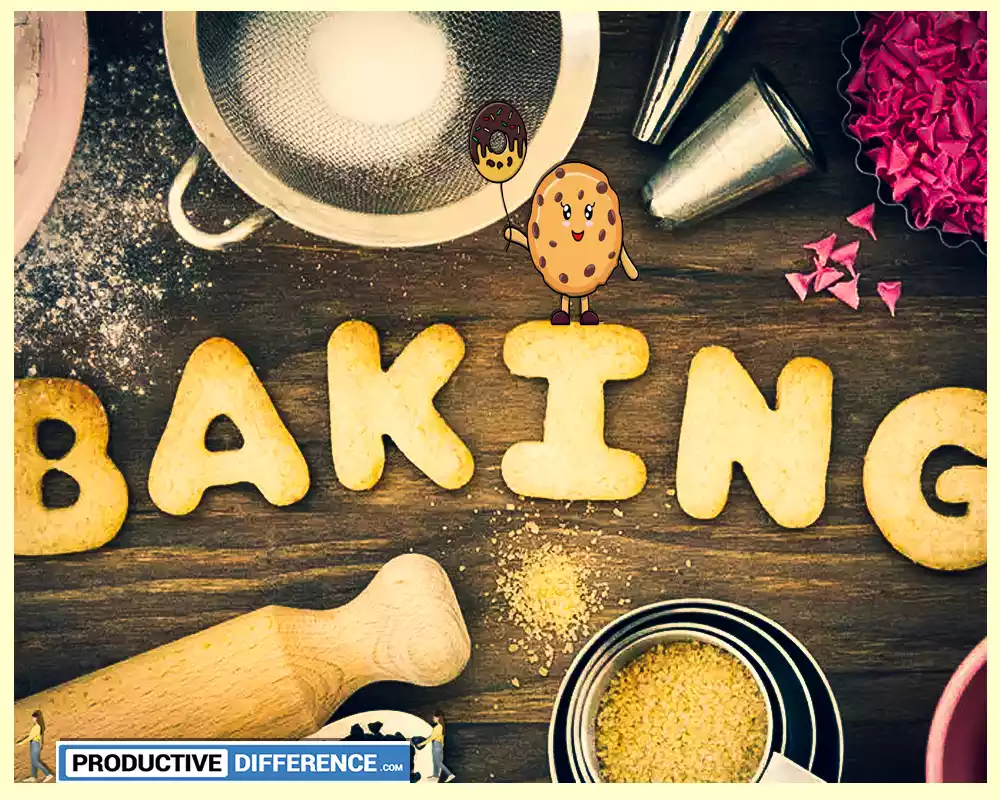 What are the best types of food to bake?
It is best to bake large dishes, like a turkey, or casserole, as you don't have to worry about burning them. The baking method is ideal for a variety of mixtures, such as pastries, such as bread, cakes, and pies, that can be unstable when heated.
When baking, the inside of a liquid food or semi-liquid can solidify and the outside will slowly brown.
This cooking technique is great for baking goods such as bread, cake, cookies, croissants, and muffins.
You can also make one-pot dishes with baking, such as casseroles, quiches, pot pies, or enchiladas.
Baking Pros
Baking offers numerous advantages and benefits. Baking provides an enjoyable way of creating tasty yet nutritious desserts at low costs; and allows people to strengthen and develop their culinary abilities, as well as unleash and express their artistic skills.
Baking can also be an enjoyable activity to share with family and friends, providing opportunities to discover shared passions, acquire new skills, and spend quality time. Baking offers something worthwhile and enjoyable for people of all ages – both children and adults can benefit immensely from being part of an interactive baking session!
The creative process can be fun

Baking is more affordable than purchasing a cake at a bakery

Baking with family and friends is an enjoyable way to pass the time

Benefits of baking for health

It's fun to bake

It's cheaper, quicker, and easier to bake a cake than buy one from a bakery
Bake Cons
Baking requires time, skill, and effort for optimal results. The process can be long and drawn out: from gathering the necessary ingredients and accurately measuring them through mixing your mix before placing it in the oven – not forgetting its expense (butter eggs and sugar can be very pricey!), through preparation to measuring accurately before baking it off in your own kitchen – not forgetting safety precautions to consider! Baking may even prove hazardous!
Open flames or hot ovens pose an increased risk of burning. Baked goods are prone to spoilage and should be stored or consumed properly. Baking can also be messy, as flour and other ingredients are likely to get all over your kitchen counters and floor. Baking may not be a good activity for all.
You need to hire a professional baker

You must bake it in the oven

Raw food is not allowed

The process takes a lot of time

The same can be said for the dangers of a contaminated product.
How to do Broiling and Baking
Broiling, on the other hand, is something we do occasionally. If you are cooking thicker cuts of meat, such as a breast of chicken, broiling will brown the outer surface without cooking through the interior. We will bake a thick cut of meat, or a casserole with hefty ingredients like lasagna. To achieve a crisp exterior, finish the dish under the broiler.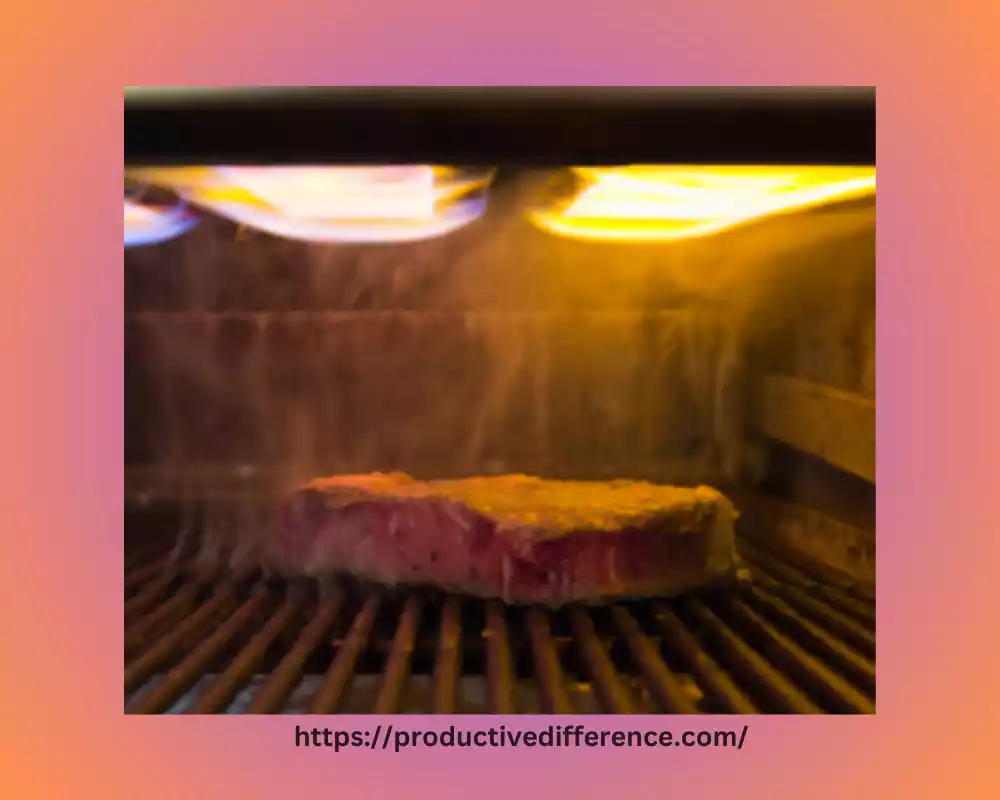 Broiling is similar to grilling in that it uses high heat for quick sears and browns. You can use it to brown thin slices of meat (like our Broiled Lamb Chops), to get a golden crust on food like Broiled Crusty Tomatoes and Broiled Oysters, or even to give a baked dish a new texture. This French onion soup looks much more appetizing with the golden brown crown of cheese from the broiler.
The Difference Between Broiling and Baking
There are several different zones of heating in your oven.

 

You'll find different heating zones depending on your model.

 

It allows your oven to either concentrate the heat on a specific area or activate the entire heating zone to ensure even cooking.

In terms of temperature and heat source, the primary difference between broiling and baking is the latter.

 

Indirect heat is used in the form of heated air that circulates evenly throughout the oven to bake your food for a long period.

The broiling method uses concentrated, direct infrared energy from a single heat source, either from the top of the oven or from the bottom depending on the model, to cook the food quickly and at high temperatures (550 degrees Fahrenheit).

 

Broiling is usually done on the top of the oven or in a drawer below the oven.

 

This is your cheat sheet. Baking takes longer to cook at lower temperatures; broiling requires higher temperatures and a shorter time.

Source of heat: This is where the main differences between baking and broiling are found. 

In baking, food is cooked using indirect heat, while in broiling, the energy source used to cook it is direct, infrared.

Time: Broiling is a faster process than baking. A dish may take 10 minutes or more to bake properly. 

Food can be browned and cooked in just a few seconds when broiling.
Comparison Table
Components

Broil

Bake

Definition

The method of broiling involves the use of direct heat coming from above.

 

Direct heat is a way to cook food quickly and evenly at a temperature higher than that of baking.

Baking is a common method of cooking that involves using an oven or indirect heat.

Method of cooking

The method of cooking with dry heat involves directly cooking the food beneath or over the source of heat.

Baking is the method of cooking with dry heat, which involves using an oven.

Ingredients

The method works best for small cuts of tender meat, fish, or vegetables.

Most often, bake is used to describe baking sweets or bread as well as stews, casseroles, and slow-cooked meals.

Heat source

Broiling is a method of cooking where the heat source is either directly below or above the food.

When baking, heat is evenly distributed throughout the entire oven.

Process temperature

Broiling food at high temperatures is a common practice.

Baked foods usually bake at lower temperatures than foods that are broiled.
Benefits of broiling or baking
Broiling as well as baking is considered a healthy method of cooking.
Baking is one of the best ways to minimize nutrients being lost when cooking – an efficient solution that minimizes any nutritional losses during preparation. For example, frying can result in up to 85% less omega-3 than if you baked it.
Similarly, some vitamins and minerals seem to be degraded to a lesser extent when baking as compared to other cooking methods(3).
You don't need to add any oil when you bake or broil, so your total fat intake will be reduced.
Aldehydes are also reduced when you don't add fat before cooking. The toxic compounds that are formed when oil is heated to high temperatures can increase cancer risk and other diseases.
While broiling reduces the production of aldehydes it can still produce polycyclic aromatic Hydrocarbons (PAHs), which are potentially cancer-causing.
When fats from food contact a heated surface, PAHs are formed. To limit PAH production, remove meat drippings promptly, trim excess fat before broiling meat, and avoid oil-based marinades.
Benefits of Broiling
Retains Nutrients: Broiling is known for its ability to retain the nutritional value of food. Since the cooking time is relatively short, essential vitamins and minerals are preserved, making it a healthy cooking option.
Enhances Flavor: One of the significant benefits of broiling is the intense flavor it imparts to the food. The high heat causes the Maillard reaction, a chemical process that enhances the taste, resulting in a savory and delicious dish.
Quick and Convenient: Broiling is a fast and convenient cooking method. It requires minimal preparation and cooking time, making it ideal for busy individuals or those looking for a quick and easy meal.
Healthier Cooking Option: Compared to frying or sautéing, broiling requires little to no added fats or oils. It allows the excess fat to drip away from the food, resulting in a healthier dish with reduced calories.
Benefits of Baking
Even Cooking: Baking ensures that the food cooks evenly, resulting in a consistent texture throughout. This method is particularly beneficial for delicate dishes, such as cakes and soufflés, where uniformity is essential.
Retains Moisture: Baking helps retain the natural moisture of the ingredients, especially when using covered dishes or adding liquids. This moisture preservation results in tender and juicy dishes that are pleasing to the palate.
Versatility: One of the key advantages of baking is its versatility. It allows you to prepare a wide range of dishes, from savory casseroles to delectable desserts. The gentle and even heat distribution makes it suitable for different recipes.
Suitable for Various Ingredients: Whether you're baking vegetables, meat, or desserts, this cooking method adapts well to various ingredients. Baking can bring out the natural flavors and textures of the food, making it a preferred choice for many culinary creations.
Broiling and Baking are two versatile cooking techniques that offer a range of benefits. Broiling retains nutrients, enhances flavor, and provides a quick and healthier cooking option. On the other hand, baking ensures even cooking, retains moisture, offers versatility, and is suitable for various ingredients. By understanding the advantages of these methods, you can choose the most suitable cooking technique for your desired culinary creations.
What You Need to Know
Baking uses a lower indirect heat to cook food throughout the whole oven.

Broiling usually takes less than 10 mins.

The best way to cook thin meat strips, such as steak or tuna, is by broiling. You can also crisp up prepared dishes, like macaroni & cheese.

Baking is used to make most bread and pastries as well as savory dishes such as casseroles.
Conclusion
Broiling and Baking are two distinct cooking techniques, each with its unique benefits and applications. Broiling is excellent for quick cooking and achieving crispy textures, while baking provides even cooking and retains moisture for delectable dishes. Knowing when to use each method will empower you to create culinary masterpieces that tantalize your taste buds. So, the next time you're in the kitchen, confidently choose between broiling and baking to elevate your cooking to a whole new level.