Introduction
Vatican 1 and 2 were two of the most significant councils in the history of the Catholic Church. Vatican 1 was held from 1869 to 1870, while Vatican 2 was held from 1962 to 1965, almost a century later. Both councils took place in Vatican City, a sovereign city-state located within the city of Rome, Italy. The Vatican City-based Vatican serves as the seat of Roman Catholicism and has hosted many historic events over its many-hundred-year existence, such as two councils called Vatican 1 and Vatican 2.
Held over one century apart, each council left an indelible mark upon Catholicism that still influences it today – this article will examine their differences to understand their effect. now, let's dive into the details between Vatican 1 and 2
Vatican 1 and 2 Historical Context
The First Vatican Council took place as a result of political upheavals during the mid-19th century, which saw nationalist movements gain strength while traditional forms of authority declined significantly. Concurrently, Catholic authority faced increased threats both internal and external.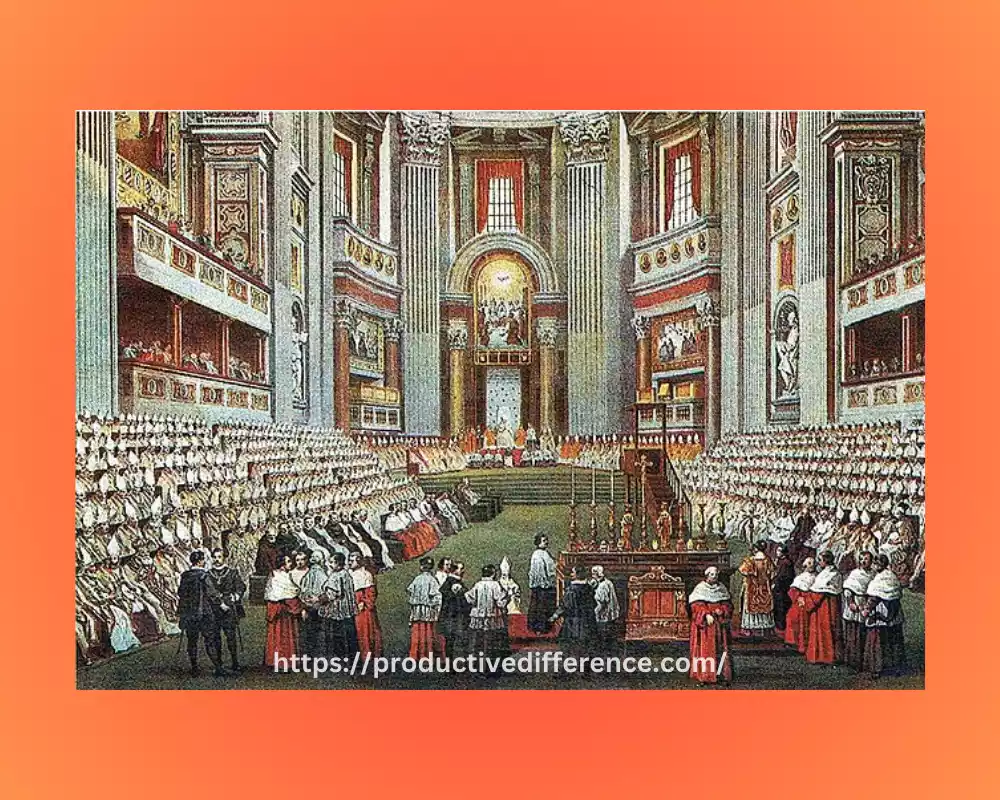 Pope Pius IX convened the council as part of his attempt to uphold and defend Church teachings against challenges to their authority from within and without. By declaring papal infallibility, this council sought to highlight his ultimate authority as arbiter on issues related to faith and morals within Christianity.
The Second Vatican Council took place in a very different historical setting. The 20th century witnessed dramatic social transformations with advances in technology and social movements which challenged traditional forms of authority and ways of life, prompting Church leaders to recognize how essential adaption was for remaining relevant and effective in modern world society.
Pope John XXIII convened the council with the purpose of "opening up" the Church to its modern surroundings and drawing it more closely in contact. Emphasis on dialogue and ecumenism served to address an increasing demand for interfaith understanding across cultural divides in an ever-evolving global setting; at the same time, it sought to modernize Church liturgy while remaining true to traditional beliefs and teachings.
Vatican 1 and 2 both held significant historical context, which informed their deliberations and decision-making processes. Vatican 1 responded mainly to challenges facing society during mid 19th century while Vatican 2 met similar concerns in the mid-20th century. Their legacy still shapes Catholic Church relationships worldwide today.
History of Vatican 1: From 1869-1870, the First Vatican Council convened at Vatican City with over 700 bishops attending. Topics discussed at this council included papal indisputability, church/state relations, and the church's role in contemporary world society. Key documents created during this meeting were The Dogmatic Constitution of Catholic Faith as well as the First Dogmatic Constitution of the Church of Christ.
Background on Vatican 2: From 1962-1965, over 2000 bishops attended the Second Vatican Council at Vatican City, which focused on liturgy, ecumenism, interfaith relations, as well as interreligious coexistence. Key documents produced from this Council include its Dogmatic Constitution on Church Membership; Constitution for Sacred Liturgy Practice and Decree on Ecumenism.
Differences between Vatican 1 and 2
Vatican 1 and 2 differ significantly when it comes to their theology and doctrine, especially their focus on papal infallibility versus church membership as communities of believers with laity participation within it. Vatican 1 was defined by papal infallibility while Vatican 2 sought to emphasize church membership among laity as communities within religion itself.
Vatican 1 emphasized the pope's authority, and his role as advisor, while Vatican 2 placed greater importance on collegiality among bishops as advisors and mutual consultation among them.
Vatican I and II also varied when it came to liturgy and worship practices, with Vatican 1 not covering liturgical matters at all, while Vatican 2 produced a document outlining sacred liturgy that encouraged greater participation by lay participants as well as providing for vernacular language use during liturgy services.
Vatican 2 also gave greater priority to issues surrounding ecumenism and interfaith dialogue than Vatican 1. Specifically, several documents were produced regarding these subjects including a Decree on Ecumenism and a Declaration Regarding the Relations of the Church to Non-Christian Religions.
Vatican 2 was the first council convened during an age of mass media, placing greater emphasis on communication and media; producing numerous documents regarding media usage as an asset in spreading church doctrine.
While there were certainly similarities between Vatican 1 and 2, these councils also saw some significant variations in terms of their approaches to theology, church authority, liturgy, and communication.
Theological Perspective: The primary theological concern of Vatican 1 concerned the definition of papal Infallibility, and the affirmation of the authority of the Pope. 

Vatican 2 was a more general theological council, with a focus on ecumenism and interfaith dialog, liturgy as well as the role of laity within the church.

 

Both Councils made a major impact on Catholic theology, but Vatican 2 had far more implications.

Differences In Structure: Vatican 1 placed a high emphasis on the Pope's authority and the highly centralized Church structure. It also put a lot of focus on the Vatican as the leader of the Catholic Church. 

Vatican 2 on the other had a greater emphasis on local bishops and a more active participation of laity members in Church governance.

 

Decentralizing the Church has had an impact on its structure, especially regarding the involvement of laity members in decisions and relationships between local dioceses and the Vatican.

Liturgy Differences: One of the biggest practical consequences of Vatican 1 and Vatican 2's differences was their impact on liturgy. 

Vatican 1 placed a great emphasis on Latin and the role of priests as mediators between God and congregations.

 

Vatican 2 emphasized the importance of using the vernacular in liturgy and a congregation that played a larger role.

 

The liturgy was radically changed, with new prayers being used and Mass celebrated facing the congregation.
 The short difference between Vatican 1 and 2
Vatican 1 was held in 1869-1870, while Vatican 2 was held in 1963-1965
Vatican 1 is famous for the doctrine of Papal infallibility and the triumph of Ultramontanists
Vatican 2 is longer of the two and also produced many more documents than Vatican1
The two are called ecumenical, but they were held to explain how the church relates to the rest of humanity.
Comparison chart between Vatican 1 and 2
| Aspect | Vatican 1 | Vatican 2 |
| --- | --- | --- |
| Date | 1869-1870 | 1962-1965 |
| Location | Vatican City | Vatican City |
| Convening Pope | Pius IX | John XXIII |
| Attendance | Approximately 800 bishops | Over 2,500 bishops, theologians, and observers |
| Duration | One year | Three years |
| Emphasis | Reaffirming the authority and teachings of the Church | Modernizing the Church and making it more relevant to the modern world |
| Key Documents | Dei Filius (On the Catholic Faith) and Pastor Aeternus (On the Infallibility of the Pope) | Lumen Gentium (Dogmatic Constitution on the Church), Gaudium et Spes (Pastoral Constitution on the Church in the Modern World), and Sacrosanctum Concilium (Constitution on the Sacred Liturgy) |
| Impact on the Liturgy | Limited changes to the liturgy | Significant changes, including the use of vernacular languages, more participation by the laity, and a greater emphasis on active participation |
| Ecumenical Dialogue | Minimal emphasis on ecumenical dialogue | Significant emphasis on ecumenical dialogue and interfaith relations |
| Papal Infallibility | Declared papal infallibility as a dogma of the Church | Did not address the issue of papal infallibility directly, but affirmed the authority of the pope as the head of the Church |
The comparison chart between Vatican 1 and 2 highlights key similarities and distinctions between Vatican 1 and 2. Vatican 1 was focused largely on reinforcing Church authority and traditional teachings, while Vatican 2 sought to modernize and make it more relevant to contemporary life.
Vatican 1 and 2 had different effects on liturgy; Vatican 2, in particular, made significant modifications designed to increase participation by using vernacular languages during liturgy services; also, there was a much greater focus placed on interreligious dialogue whereas Vatican 1 placed greater importance on reinforcing Catholic doctrine, and papal authority than in Vatican 1.
Impact of Vatican 1 and 2
Vatican 1 and 2, held between 1869-1870, had profound effects on both Catholic Church members as well as wider society. Vatican 1, which took place between 1869-1870, confirmed traditional beliefs while emphasizing the pope's authority through their declaration of papal infallibility – thus cementing his role as the ultimate authority when it came to matters of faith and morals within the church; yet, such claims also caused much debate within some quarters within Catholicism itself and eventually division within it.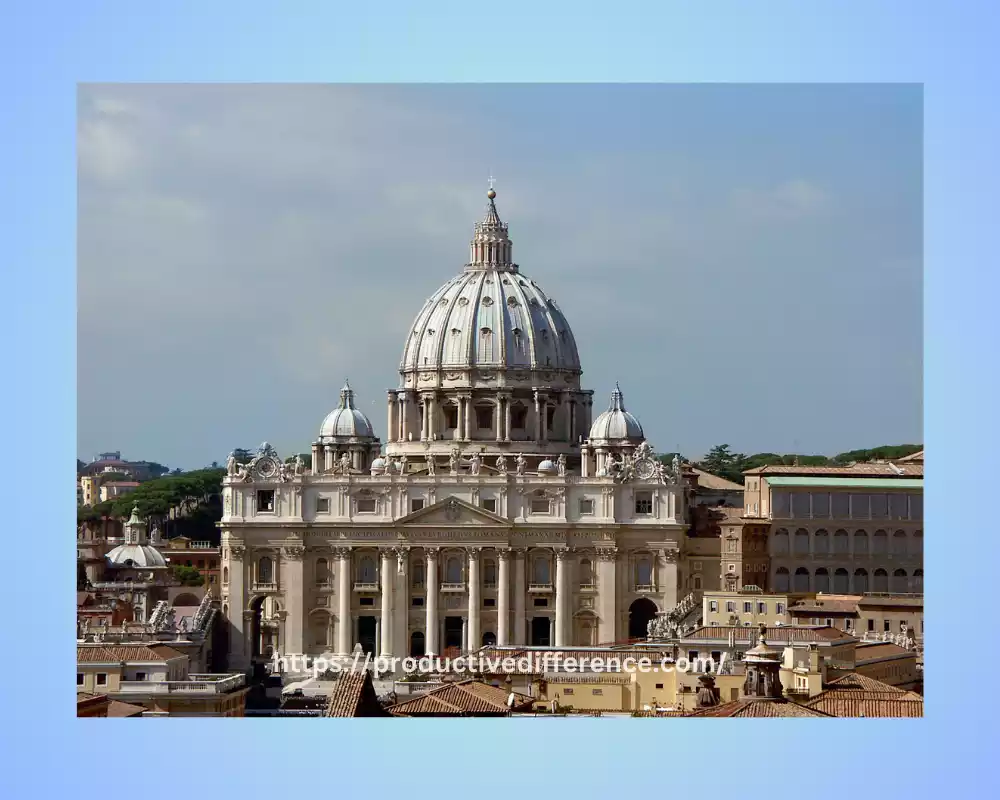 Vatican 2, held from 1962-1965, represented a more radical departure from tradition than previous councils had done. Focusing on modernizing and updating Catholic teaching for relevance within today's globalized environment, the council produced key documents including its Dogmatic Constitution on Church that highlighted the laity's role within it as well as Declaration on Religious Freedom reaffirming everyone's rights to religious liberty.
Vatican 2 has had an immensely positive effect on dialogue and ecumenism. As one of its primary impacts, it sought to foster better relations among various Christian denominations as well as non-religious religions – leading to groundbreaking developments like establishing the Pontifical Council for Interreligious Dialogue.
Vatican 2 also made a dramatic difference in Catholic liturgy and worship. Sacrosanctum Concilium, its document on sacred liturgy, called for greater participation by the laity in the liturgy as well as the use of vernacular languages – something which led to significant modifications of liturgical practices such as using vernacular languages for Mass service as well as contemporary music/art in church environments.
Vatican 1 and 2 had profound impacts on both Catholicism and wider society. While Vatican 1 focused more on traditional beliefs and authority within Catholicism than Vatican 2 did on modernizing and making the church relevant in an ever-evolving modern world; their influence can still be felt today within Catholic Churches worldwide.
Conclusion
Vatican 1 and 2 Councils were key moments in Catholic Church history. Vatican I highlighted traditional beliefs and authority while Vatican 2 attempted to modernize and make it relevant for contemporary life. Vatican 1 and 2 councils made profound differences to both members of the church as well as society at large – Vatican 2 particularly made an impressive mark through dialogue and ecumenism, liturgy and worship within Christianity itself.
As the Church adapts and advances into an ever-evolving global environment, it will be intriguing to watch how Vatican 1 and 2 influence future Church developments – one thing is certain – their impacts will linger for decades to come. To know another historical content about "Early Man and Modern Man" just click here.